We're starting to think that Nicolas Cage bought and built his ridiculous 9-foot tall pyramid-shaped tomb in a New Orleans cemetery in an attempt to throw us off the track that he's actually immortal.
When a photo of a man from 1870 who bore an extreme resemblance to the actor surfaced online, we thought it was humorous, but now comes more proof that Cage might actually be centuries old.
A Reddit user named rsplen, came across a painting of the Virgin Mary and (assuming it's not Photoshopped) we find it mighty suspicious that she too looks exactly like Cage.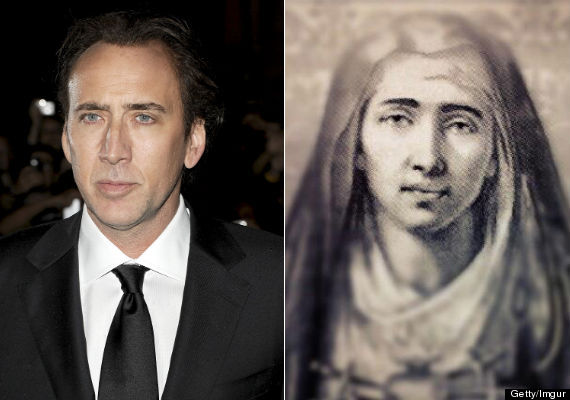 The (allegedly) 48-year-old actor was asked about the Civil War era photo back in February and he told David Letterman he thought it looked like a "slowed down version" of himself. He also went on to deny beliefs that he's a vampire, by explaining that the very existence of the picture would seem to denounce the vampire theory, since folklore states a vampire's photo can't be taken.
"I don't drink blood and last time I looked in the mirror, I had a reflection, so I'm not going with the vampire theory," he concluded.
Celebrity Photos Of The Week:
PHOTO GALLERY
Celebrity News & Photos
BEFORE YOU GO