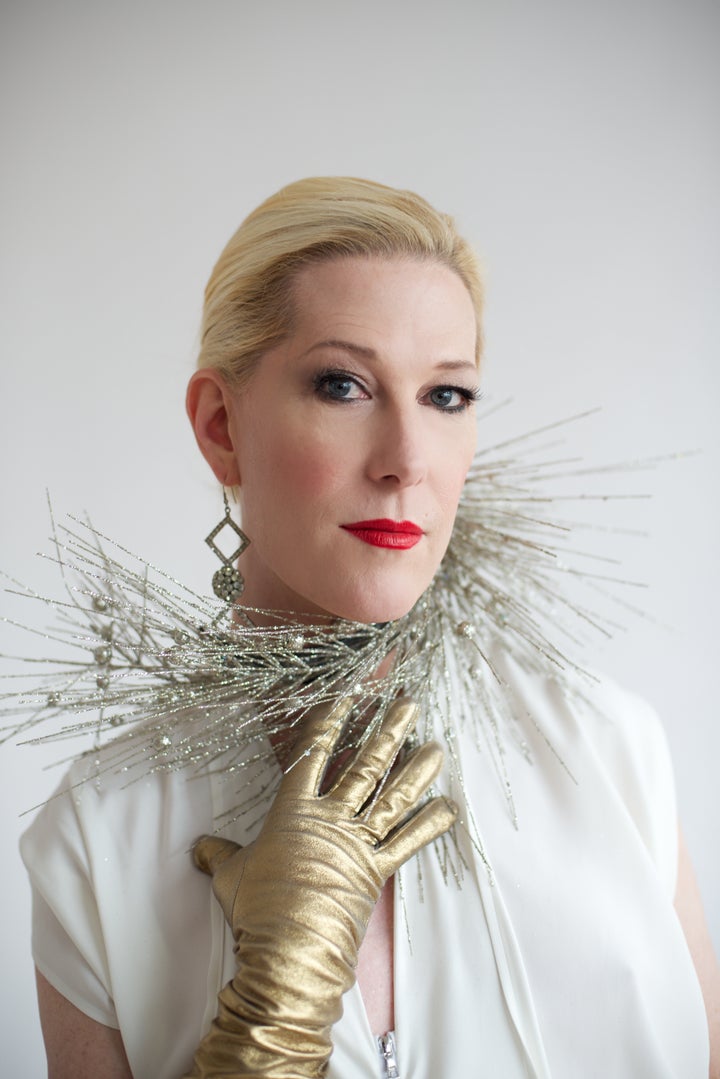 New York audiences seeking a more unique form of yuletide cheer will be best served by making a pilgrimage to Manhattan's 54 Below nightclub this month, where they can enjoy "Snow Angel," the 2012 incarnation of Mx Justin Vivian Bond's annual holiday spectacular.
Hailed as the "trans-Atlantic cabaret Messiah," Bond truly defies the traditions of performance art. This year alone, the transgender singer-songwriter, author and activist (who opts for the pronoun "v" rather than"'he" or "she") released a new album, "Silver Wells," and is gearing up for the launch of a brand-new fragrance, "The Afternoon of a Faun," for both men and women.
In an interview with The Huffington Post, Bond explained why "Snow Angel" will be a truly celebratory affair (much to v's relief) while offering a unique stance on the role of transgender artists and performers.
The Huffington Post: Congratulations on your return to 54 Below. How will this show differ from your run at the club earlier this year?
Mx Justin Vivian Bond: The obvious would be that this is a holiday show, wouldn't it? But this show will be a lot more fun and have a bit more variety. The shows in June were to celebrate the release of "Silver Wells" and I sang the record in its entirety so, to be honest, I felt a bit constrained. For "Snow Angel," I've invited the brilliant Amber Martin to sing with me and my beloved traveling companion Nath Ann Carrera will be on guitar. I'm also very excited that Brett Every is on piano.
What's the significance of the show's title?
I had to choose a title for the show before the election and I was just terrified Mitt Romney and all those crazy right-wing "rape specialists" would get into office. I chose "Snow Angel" as the title so I would have the freedom to go in whatever direction history dictated. If Obama won, it could be a celebration based the the whimsical joy of making fun shapes in the show; if Romney, won those same shapes could represent the imprint you would leave in the snow if you were being raped. I'm delighted Obama won or this show could have gone real, real dark!
A number of high-profile transgender performers and artists have gotten more attention from the mainstream in recent years. But what do you think is the biggest misconception that exists about the transgender community?
Well, I can only speak for myself when I say that I think the biggest misconception is that a lot of people assume that transpeople want to be something other that what we are. I was assigned the gender "male" at birth and I'm not a male. That doesn't mean I am, or want to be, female. When people identify as one thing or the other on the gender binary -- and this includes transexuals -- they often make the mistake that everyone else does, too. That simply isn't true.
Do you feel it's important for a transgender artist to address transgender themes throughout their work?
Not necessarily. When I'm performing I reference my own experiences and those are filtered through my worldview which is certainly affected by my being trans but I don't think it would be very interesting if I were to get onstage and address the audience as if I were teaching Gender Studies 101. I would get terribly bored and so would they. Besides, my audience is much more intelligent than the average matinee crowd and I'm very proud of that.
What's your favorite aspect of the holiday season?
This year I'm going to spend Christmas here at home in New York in my East Village apartment. I got a beautiful little tree at St. Mark's Church, brought it home, lit it and covered it with fake birds from the flower shop. I love it! If I can't live in a tree house, the next best thing is to live in a house with a tree.
Is there one song or segment in the show that's particularly special to you?
For the past several years I've sung "Have Yourself a Merry Little Christmas" while Nath Ann plays along on guitar. It's a simple, quiet moment in the show and I love Nath Ann so much. It makes me happy for us to perform this one together because it shows were are family. Plus I love that the original lyric went, "Have yourself a merry little Christmas, it may be your last." Ha! What a downer. Supposedly Judy Garland made them change the lyric because if she sang that to little Margaret O'Hara in "Meet Me in St. Louis," everyone in the country would hate her. Of course, this year it just might be true!
What lies ahead for Justin Vivian Bond in 2013?
I"m writing a new solo performance piece called "Mx America" which will be premiering in Australia in February and running Fridays and Saturdays in March at Joe's Pub. It's an exploration of ways of seeing and being seen and was inspired by a quote from my friend Billy's father who said you could tell the depth of a persons tragedy by the amount of distance between how they see themselves and how they're seen by others. As an American and as a transperson I find this hypothesis to be really interesting. The show will include original songs and video.
Plus, I'll be launching my new fragrance [which is] a collaboration with the French perfume house Etat Libre D'Orange, at The Museum of Art and Design in February. Smell me!
Mx Justin Vivian Bond plays New York's 54 Below on Dec. 9-10, 16-17, 23 and 30. For more information, click here.
BEFORE YOU GO
PHOTO GALLERY
The Best Of Justin Vivian Bond