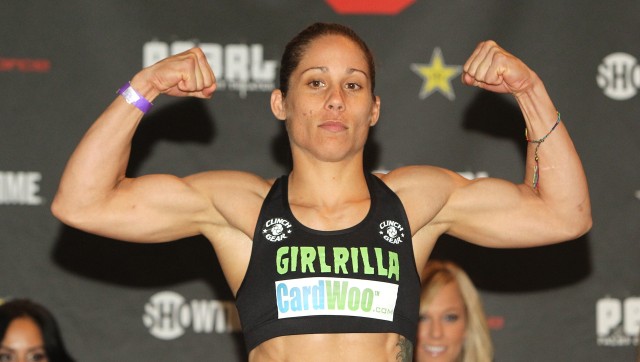 Liz Carmouche may know how to knock out her opponents, but now she's knocking down social barriers as the first openly gay fighter in the Ultimate Fighting Championship (UFC).
MMA fighter Carmouche signed to the UFC on Thursday. She is the first openly gay fighter in the organization, The Atlantic reports.
The UFC has had a history tainted with anti-gay sentiment, and some see her joining as a sign of progress.
"While it's doubtful that openly gay male fighters will be given the same welcome anytime soon, Carmouche involvement is still a sign of progress," Jezebel's Madeleine Davies writes. "Maybe one day soon, everyone — gay, straight or bi, male, female or trans — will be given equal opportunity to beat the crap out of one another."
The 28-year-old former Marine has struggled to get to where she is today.
Serving in Iraq during the "Don't Ask, Don't Tell" era as a closeted lesbian, Carmouche was surrounded by anti-gay sentiment, not only coming from her superiors, but also her friends, she recently revealed to Sports Illustrated.
At the time, the MMA fighter was struggling with her identity. "There was nothing positive in terms of anything homosexual," she said. "Anyone they suspected of being gay, they automatically treated as a scapegoat."
After her service, Carmouche walked into the San Diego Combat Academy and said she wondered if fellow fighters would accept her for who she really is.
"I thought, of all things, a male-dominated sport and a sport where you're engaging in this physical combat, that I was definitely going to come across that," she told MMAFighting.com in July. "I thought I'd come into contact with some stereotypical person who's anti-homosexuality, whether it be men or women. But I found the opposite. All they care about is a good, quality person who's a good training partner. Apart from that, what you do with your personal life, they really don't care."
She continues to stay true to herself, refusing to sacrifice her identity for advertising dollars, telling Sports Illustrated that "there's no amount of money that's going to make me go back in the closet."
Getting to the point of acceptance as an MMA fighter and a gay woman was not easy. "It was really difficult," she told MMAFighting. "I wouldn't say I came out so much as I came into my own. I really discovered what my sexuality meant to me and what that meant to me as a person."
These days, she is focusing on one thing: fighting Ronda Rousey.
On Feb. 23, Carmouche will face Rousey in the UFC's first-ever female fight at the Honda Center in Anaheim, Calif., the New York Post reported. Rousey was awarded the first UFC women's championship belt after the UFC bought out and shut down a rival promotion and launched its own women's division.
BEFORE YOU GO