All we can say is, wow!
Photographers were able to snap some photos of Sofia Vergara clad in some very sexy lingerie on the set of "Fading Gigolo," in New York City.
Yes, that's the same movie where Sharon Stone plays her bisexual love interest according to the Daily Mail, and photographers managed to snap a couple pics while they were filming the sexy scenes.
Written, directed, and starring John Turturro, who plays the role of a male escort who apparently engages in a threesome scene with Vergara and Stone, the film also features Woody Allen.
Vergara, 40, looks amazing in the photos, but those expecting to see a full-on love scene between her and Stone will just have to use their imaginations, since their romance is merely implied.
"No lesbian loving... somebody I don't know thought it was more interesting to write, 'Oh, Sharon Stone and Sofia Vergara, they have to have like a lesbian scene,'" she told "Extra."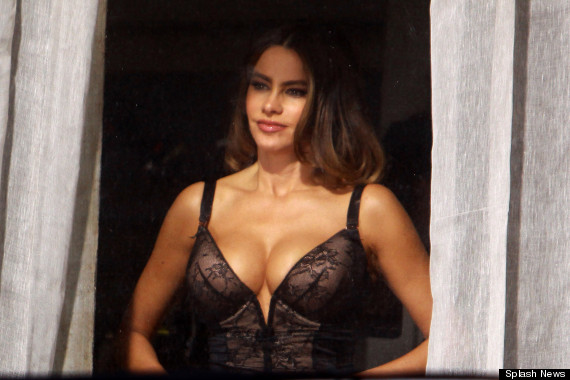 How does Sofia stack up in the battle of celebrity cleavage?
PHOTO GALLERY
Battle Of The Celebrity Cleavage
BEFORE YOU GO