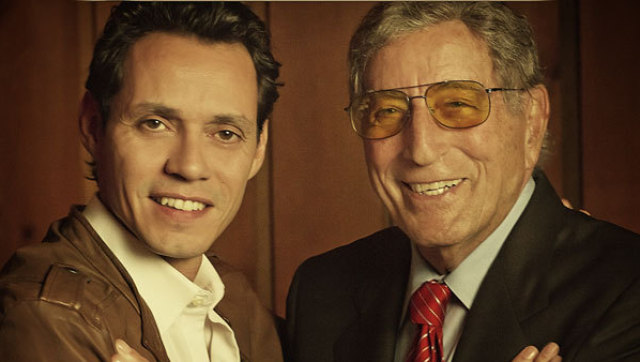 Tony Bennett, the legendary singer, joins top Latino artists for a TV special to be broadcast on the Univision Network under the title of "Merry Christmas With Our People ... Tony Bennett and Friends" hosted by actress and TV personality, Giselle Blondet.
The one-hour special will feature exclusive scenes filmed backstage during the recording of the album "Live Duets" that was produced live in studio, and includes presentations and segments with Marc Anthony, Romeo Santos,Vicente Fernández, Thalia, Juan Luis Guerra, Chayanne and other top celebrities from the Latin music industry.
PHOTO GALLERY
Tony Bennett
The show, scheduled to air on Sunday, December 9 (9/8 pm ET), will have performances of famous songs like "I Wanna Be Around" and "I Left My Heart in San Francisco", and duets with Latin stars Shaila Durcal and Armando Manzanero. Bennett will join Manzanero on a unique performance of "Yesterday I Heard The Rain", and will collaborate with Durcal to present "Steppin 'Out (With My Baby)" and a stirring rendition of "Silent Night" to kick off the holiday season.
"It has been a heartwarming journey to meet and record with all the artists from the Latin music world and I have been overwhelmed by their generous spirit and musicality. I am truly honored to have been welcomed into this community of artists," said Bennett through a press release.
"Live Duets" recently debuted at number five on the Billboard Top 200, thus becoming his third consecutive album to appear among the top positions on the popular music list.
Correction: A previous version of this article stated that Gloria Estefan was going to be part of the holiday special. Recent information confirmed the singer will no longer participate.
BEFORE YOU GO