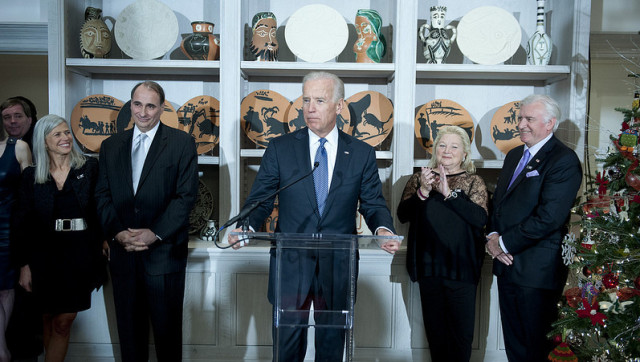 WASHINGTON -- David and Susan Axelrod, whose daughter Lauren developed a severe case of epilepsy at age seven, hosted CURE Epilepsy's 2012 Key to the CURE event at a private D.C. residence on Friday night.
After Axelrod raised $1.1 million dollars on the "Slash the 'Stache" campaign, CNN pundit and Purple Strategies Alex Castellanos volunteered to shave his own stache for 500 more donors.
Vice President Joe Biden made a surprise appearance at the event. The vice president spoke about the effect epilepsy has had on his own family. His sister-in-law's son Vince has epilepsy. "All you have to do is look in my sister-in-law's eyes," said Biden. "Look at this magnificent child and know there's not a damn thing you can do to stop the seizure."
Click through for photos from the event. The guest list for the Key to the Cure event follows ...
PHOTO GALLERY
CURE Epilepsy Event 2012
According to
White House Correspondents Insider
:
Guests included Obama top aides Alan Krueger, Fred Hochberg, Alyssa Mastromonaco, Dan Pfeiffer, Jon Favreau, Ben Rhodes, Bruce Reed, Evan Ryan, Tony Blanken and Cody Keenan. Tech was well represented by Fred and Kim Humphries of Microsoft and Walt Mossberg of "All Things Digital."The Defense Department's Jeremy Bash and former Defense Department official Doug Wilson attended along with Dr Mark Dybul, the new head of the Global Fund for AIDs, Tuberculosis and Malaria. GOP Hill top aides Doug Heye (Cantor) and Michael (Boehner) and MK Steel were there to support the cause and Alex Castellanos. Media favorites Jonathan & Betsy Fischer Martin, Ed Henry, Bill Plante,Kimberly Dozier, Luke Russert, Gretel Truong, Kelley McCormick and Patricia Harrison, President of the Corporation for Public Broadcasting. Washington newcomer, New York Times Congressional reporter Jeremy Peters and partner, Dr. Brendan Camp were greeted by new Washington colleagues. Purple was well represented by Steve McMahon and Rob Collins.
BEFORE YOU GO