Looks like Johnny Manziel has two new trophies to be proud of.
The 2012 Heisman winner is reportedly dating Sarah Savage, a model and fellow Texas A&M student. Busted Coverage stumbled upon photos of the couple posted to Savage's Instagram page, though fans watching Saturday's award ceremony were also quick to notice the beautiful woman on Manziel's arm.
Click here for full-sized image.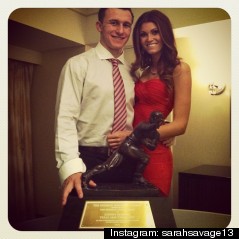 According to her LinkedIn page, Savage is a senior pursuing her BBA in marketing, while her modeling bio describes her as "a top model that has worked numerous runway shows and continues to enjoy working as a successful model with a bright future."
News of Johnny Football's new lady reminded many fans of another Texas A&M quarterback: Ryan Tannehill, whose wife, Lauren, overshadowed her husband at the NFL Draft back in April.