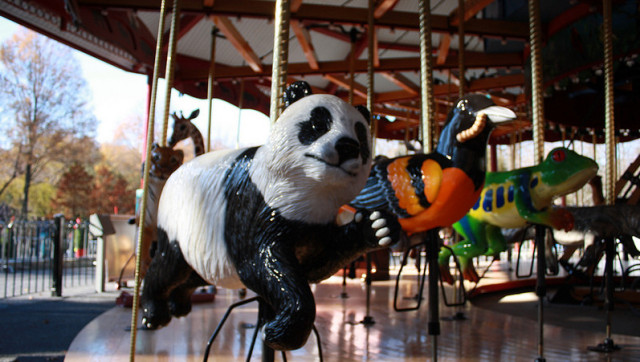 WASHINGTON -- The National Zoo is in the midst of its annual Zoo Lights spectacle. A new attraction at this year's Zoo Lights, and for the indefinite future, is The Speedwell Foundation Conservation Carousel.
The carousel, which opened at the start of Zoo Lights, cost $2.3 million to build. The Speedwell Foundation, a private family foundation based in Summit, N.J., donated $1.5 million to the project. The carousel costs $3 to ride.
Story continues below ...
PHOTO GALLERY
Speedwell Foundation Conservation Carousel
The carousel is powered by 162 solar panels donated by Pepco Energy Services. The carousel was built by Ohio-based company Carousel Works, the world's largest manufacturer of wooden carousels. A combination of old-school craftsmanship and new technology, the solar-powered carousel runs daily.
Since the carousel has only been up and running for about two weeks, there aren't any official statistics on what animals are the most popular. When HuffPost visited the zoo recently, the eagle, bears and tiger drew the most children and adults.
The carousel features 58-hand carved and painted animals. The only species with two representations are the Giant Pandas. The tallest animal is the giraffe. The gorilla and Asian elephant are two of the heavier animals, weighing in at about 150 pounds each.
BEFORE YOU GO