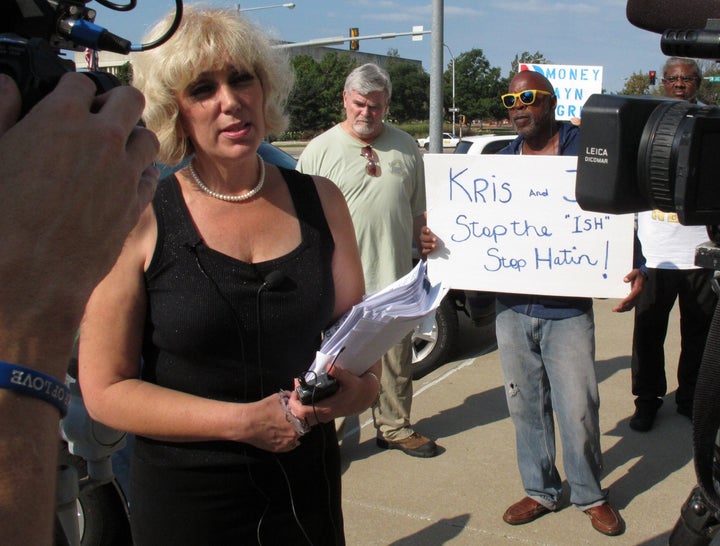 Orly Taitz, the California dentist and attorney best known for challenging President Barack Obama's citizenship, is asking the 80,000 people who have watched her YouTube video to join her for a protest in Washington.
Taitz posted on her website on Monday that a 2011 YouTube video of her speaking to the New Hampshire Ballot Law Commission now had 80,000 views. She said that amount of people protesting would make a difference in her bid to challenge Obama's presidential eligibility based on her belief that Obama was not born in the United States. As of late Monday morning, over 81,400 views were listed on the video.
A MILESTONE: NOW OVER 80,000 PEOPLE WATCHED THIS VIDEO CLIP OF ME TESTIFYING TO NH ELECTIONS COMMISSION. 80,000 PEOPLE DEMONSTRATING BEFORE THE WHITE HOUSE OR A CAPITOL BUILDING OR FEDERAL BUILDING CAN MAKE A DIFFERENCE!!!
Taitz's New Hampshire appearance, in which she asked the commission to remove Obama from the state's presidential primary ballot, featured shouting matches between several then-members of the New Hampshire House of Representatives and Commission. Former state Rep. Harry Accornero (R-Laconia) called Obama a "treasonous liar" during the hearing, while former state Rep. Sue DeLemus (R-Rochester), a Tea Party leader, demanded that Assistant State Attorney General Matthew Mavrogeorge respond to her requests regarding constitutional information. Mavrogeorge and Assistant Secretary of State Karen Ladd locked themselves in an office and called police following the outbursts
Accornero and DeLemus were both defeated for reelection last month.
Taitz has been using her website to continue her challenge to Obama's eligibility. The site highlights pending lawsuits Taitz has in several states that seek to have Obama removed from the ballot, including lawsuits in Mississippi, New York and Florida, along with a case she hopes to bring before the U.S. Supreme Court. The birther queen claims that a Supreme Court clerk is likely to dismiss the case. Taitz used the website last month to ask for volunteers to help her find the names and addresses of secretaries of state and attorneys general. In September, she issued a plea for supporters to finance a trip for her to Kansas to push a case to remove Obama from the ballot in his mother's home state.
Taitz also challenged Maricopa County, Ariz., Sheriff Joe Arpaio (R) to file a criminal complaint based on his "cold case posse's" investigation into Obama's Hawaii birth certificate. Taitz said Arpaio should return donations he's received if he does not file a complaint.
BEFORE YOU GO
PHOTO GALLERY
11 Paranoid Obama Conspiracy Theories