Employers can choose not to hire applicants for a wide variety of reasons. But how many of them actually blame the president?
That's what one law office apparently did after posting a job listing on Craigslist, according to a letter obtained by Above The Law. An applicant who responded to the ad claims Ruffi Law Offices rejected them with a letter explaining that "in light of the election results and uncertainty surrounding the next four years, we have decided not to hire an associate at this time." Ruffi Law Offices did not return The Huffington Post's request for comment.
(SCROLL DOWN TO SEE A PHOTO OF THE LETTER)
If true, the law office wouldn't be the first business to use Obama's reelection as an excuse to cut back; other companies have too, citing the cost of Obamacare. A Georgia businessman and a Las Vegas CEO have laid off employees, for example. Darden Restaurants, the parent company of Red Lobster and Olive Garden, recently backed off a test plan to reduce workers' hours in order to avoid paying the cost of health insurance guaranteed to full-time employees at companies with more than 50 workers.
It's precisely that mandate that makes Ruffi's letter even more bizarre. As Above The Law points out, since Ruffi is a one-person law office, the company wouldn't have to pay health care for the potential new associate and would likely even receive tax credits.
But not all business owners are making negative personnel decisions due to Obama's reelection. Several Arizona business owners, for example, view the new health care act merely as something their businesses will have to adapt to, Biz Journals reports. Meanwhile, Mary Alford, CEO of The Sustainable Design Group, says that she plans on expanding her business under Obama.
(Hat tip: Business Insider)
Here's the letter in question, provided by Above The Law: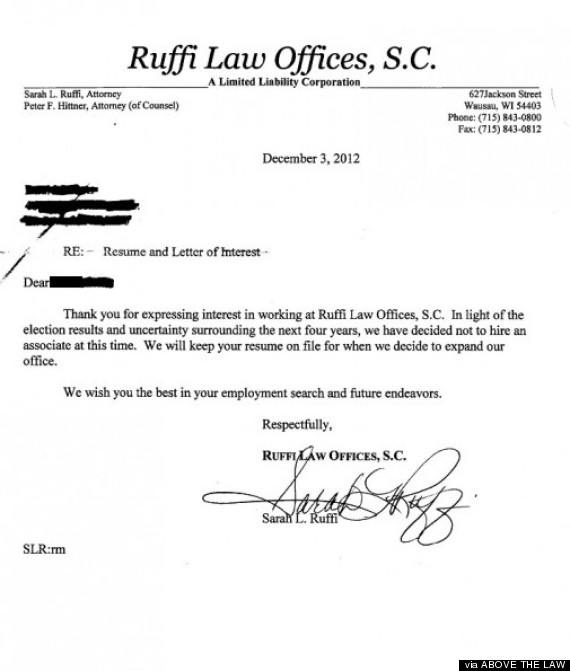 Correction: A previous version of this post mistakenly referred to Ruffi Law Offices as a law firm. It is a law office since it consists only of one practicing attorney.

BEFORE YOU GO
PHOTO GALLERY
America's Worst Foreclosure Fails