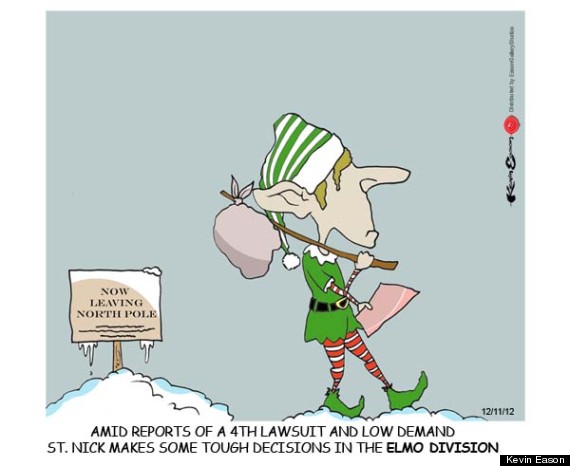 With every passing day the controversy surrounding Kevin Clash, the former voice of Elmo, seems to hold more twist and turns. With a fourth accuser coming forward, claiming to have had a sexual relationship as a minor with the puppeteer, the once beloved voice of the popular character is now engulfed in what appears to be a never ending scandal.
But with the holiday season at its peak, what will happen to all those Elmo toys as this issue gets more and more complicated? Although Hasbro decided to stick by the fan favorite products that likely account for a large majority of annual sales, one toy producer isn't so optimistic.
According to cartoonist Kevin Eason, the ultimate producer of holiday cheer, Ol' St. Nick, is making cut backs in the Elmo department, ultimately laying off some of Santa's helpers. It looks like this scandal is affecting more than just those who live on Sesame Street.
Do you think the controversy will take a toll on Elmo toy sales? Share your thoughts in the comments section below.
About the artist:

Kevin Eason is a freelance editorial cartoonist and illustrator from New Jersey. His brand of satire covers news events in politics, entertainment, sports and much more. Kevin's work features include:
Gannet, TVOne, Uptown, The Urban Daily, NAACP, Cengage Publishing, Bossip, WBLS_107.5FM, and various newspapers & magazines throughout the country. Follow him on Facebook.
PHOTO GALLERY
The Political Satire Comedy Of Kevin Eason