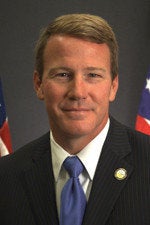 Ohio Secretary of State Jon Husted (R) defended his decision to limit early voting in the state, saying that voting places needed time to set up for the Nov. 6 election.
Speaking on Monday to a forum on voting sponsored by the Pew Center on the States in Washington, Husted said that he and other election officials needed time to make sure those who voted early were not included in poll books sent to voting locations on Election Day, the Cleveland Plain-Dealer reports. Husted said he likely did not need the three days given to him by the state legislature, but was bound to follow the law.
Before the November 2012 presidential election, Husted closed early voting three days earlier than in past years under new legislation adopted by Ohio lawmakers. He has been sued eight times in federal court, accused of trying to limit access to voting. But Husted said Monday that it is hard to achieve balance between maximum participation in voting and maintaining the integrity of the election.
Politics stands in the way of a balance, he said.
"If you want to find that balance, don't become a secretary of state in a swing state," cincinnati.com reported Husted as saying. "It is politics that stand s in the way of achieving that balance, not policy."
On Monday, Husted came face-to-face with Jeremy Bird, an Obama campaign official who helped sue Husted. The Plain-Dealer reported that Bird said he believed Husted's answers about following the law and expanding voting access were "disingenuous" and that Husted should be trying expand voting access.
Husted, a former state House speaker, also used the forum to say that he would like the federal government to fund new voting machines for Ohio, cincinnati.com reported. Husted explained that the electronic voting machines the state purchased with a $3 billion federal grant in 2004 are reaching the end of their lifespan. With the Help America Vote Act mandating the machines, he said he believed the federal government should fund replacements in Ohio.
Husted's comments come days after he indicated that he is likely to seek a second term as secretary of state in 2014. Husted was first elected in 2010, unseating then Secretary of State Jennifer Brunner (D).
BEFORE YOU GO
PHOTO GALLERY
Long Voting Lines