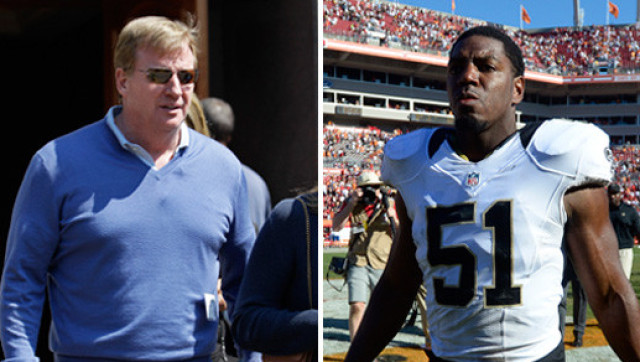 The battle between Jonathan Vilma and NFL Commissioner Roger Goodell isn't over yet, according to the linebacker's lawyer. The New Orleans Saints' star plans to proceed with an anti-defamation suit against Goodell even after former NFL Commissioner Paul Tagliabue overturned the player suspensions doled out in the ongoing bounty scandal.
Having been called in to hear an appeal after Goodell recused himself, Tagliabue ruled on Monday that three of the four players who were handed suspensions, including Vilma, engaged in conduct detrimental to the league but still vacated all suspensions. Scott Fujita, now with the Cleveland Browns, was fully cleared of conduct detrimental to the league. Despite overturning the suspensions, Tagliabue claimed to be affirming Goodell's findings.
"My affirmation of Commissioner Goodell's findings could certainly justify the issuance of fines," Tagliabue's ruling said "However, this entire case has been contaminated by the coaches and others in the Saints' organization."
According to Albert Breer of NFL.com, Vilma's lawyer Peter Ginsberg said that his client "intends to continue to pursue the defamation lawsuit in order to reclaim his reputation."
Ginsberg went even further, ripping Goodell in a statement issued just minutes after Tagliabue's ruling. Via USA Today:
Two competing forces have been at play since at least March of this year – Roger Goodell has been trying every conceivable maneuver to avoid real and honest scrutiny of his manufactured allegations that Jonathan Vilma engaged in a bounty program aimed at opposing players and Jonathan has been fighting to have an open and fair review of those accusations. We are obviously relieved and gratified that Jonathan no longer needs to worry about facing an unjustified suspension. On the other hand, Commissioner Tagliabue's rationalization of Commissioner Goodell's actions does nothing to rectify the harm done by the baseless allegations lodged against Jonathan. Jonathan has a right and every intention to pursue proving what really occurred and we look forward to returning to a public forum where the true facts can see the light of day. We call upon Commissioner Tagliabue to release the transcripts of the proceedings held before him so that they are available as we go forward. Finally, it is regrettable that the NFL continues unjustifiably to attack the New Orleans Saints, an organization comprised of decent and honest people who continue to stand strong in the face of these baseless attacks.
BEFORE YOU GO
PHOTO GALLERY
Reactions To Tagliabue's Ruling