Raising the Medicare eligibility age from 65 to 67 could leave as many as 435,000 older Americans without health insurance, according to a report published Tuesday.
President Barack Obama and House Speaker John Boehner (R-Ohio) are engaged in budget talks to prevent the "fiscal cliff," a combination of tax increases and spending cuts that will kick in Jan. 1 if no alternate deal is reached. Republicans have floated raising the Medicare age to 67 as one way to reduce the program's spending -- an idea Obama reportedly considered during negotiations last year.
Doing so could result in hundreds of thousands of people between 65 and 67 losing access to health insurance, warns a report published by the progressive Center for American Progress.
One rationale for moving the Medicare age to 67 is that Obama's 2010 health care reform law will create a better private health insurance market for older people starting in 2014 by forbidding companies from denying people with pre-existing conditions or from charging older customers more than three times what younger people pay. The law also seeks to expand Medicaid to anyone who earns up to 133 percent of the federal poverty level, which is $14,856 this year, beginning in 2014.
Proponents of raising the Medicare age contend that these rules would enable older Americans to find coverage outside of Medicare. But when the Supreme Court upheld the Affordable Care Act in June, it allowed states to opt out of the Medicaid expansion. So far, nine states have said they won't offer the new benefits to poor residents. This would leave the poorest senior citzens out in the cold, according to the new report.
"Raising the eligibility age would harm seniors even if every state fully implements the Affordable Care Act's Medicaid expansion. But the proposal poses an even greater threat to low-income seniors now that the Supreme Court's decision upholding the law rendered the Medicaid expansion optional for states," the report says. The study was first reported by the Washington Post's Greg Sargent.
Opponents of the age increase include House Minority Leader Nancy Pelosi (D-Calif.) and the AARP, the lobbying organization for older people.
HuffPost readers: Are you over 60 and uninsured or having trouble paying your medical bills? Tell us about it -- email jeffrey.young@huffingtonpost.com. Please include your phone number if you're willing to do an interview.
Even if every state expands Medicaid under Obamacare, about 270,000 older Americans would become uninsured by 2021 if the Medicare age goes up to 67, according to a Congressional Budget Office analysis published in January.
The combined result of an increase in the Medicare eligibility age and states opting out of the Medicaid expansion could be 435,000 people between 65 and 67 years old without health insurance, the Center for American Progress study concludes. In states like Texas, Mississippi and Louisiana that don't expand Medicaid, most of the poorest older people "will have nowhere to turn for coverage," according to the study.
Starting in 2014, the health care law also will provide tax credits to defray the cost of private health insurance to people if their incomes range from the poverty level, $11,170 for a single person this year, to four times that amount. But because Congress didn't anticipate the Supreme Court allowing states to refuse the Medicaid expansion, tax credits aren't available to people below the poverty level.
What's worse for poor senior citizens is that some of the states that have already refused to expand Medicaid have more older residents and more older residents living below the poverty line, the Center for American Progress reports.
The poverty rate for people 50 to 64 years old is 9.1 percent, according to the report. The rate is higher for people in that age group in states including Texas, Mississippi and Louisiana, and some states opting out of Medicaid have more older residents, including Texas and Georgia, according to the report.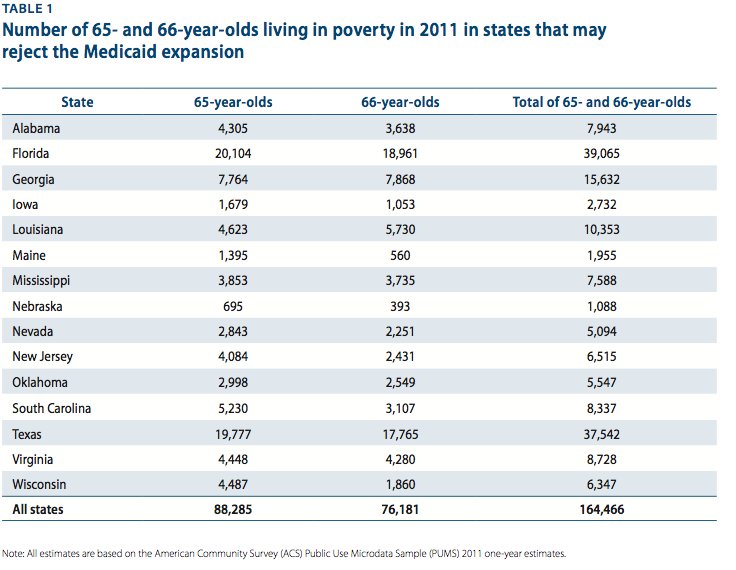 Source: Center for American Progress
Even those 65-to-67-year-olds who qualify for Obamacare tax credits for private health insurance still would be worse off than if they received Medicare coverage because their out-of-pocket health care costs would be higher, the report says.
Some studies of older, uninsured people show they're less healthy when they enter Medicare than those who had coverage, suggesting raising the Medicare eligibility age and leaving more seniors uninsured could have that same effect on more people.
And while raising the Medicare eligibility age would reduce federal spending by an estimated 5 percent, or about $124.8 billion, by 2021, the policy change would raise state Medicaid spending for those seniors who join the program, according to the Congressional Budget Office. Pushing more older Americans on to private insurance through Obamacare or their employers also would raise premiums for younger people, who would be picking up a share of these older people's medical costs.
BEFORE YOU GO
PHOTO GALLERY
What Could Fall Off The Fiscal Cliff