Drew Barrymore gave birth to her first baby just nine weeks ago, and she wants the world to know that she's just ecstatic about it. The 37-year-old actress graces the cover of People magazine this week with her baby, Olive Barrymore Kopelman.
On being a new mom, Barrymore gushed to the publication that "it's like the biggest crush I've ever had in my life!" She said that she and husband Will Kopelman, an art consultant (and also son of former Chanel CEO Arie Kopelman), serenade their new baby girl with "Good Morning" from "Singin' in the Rain" to make her smile. "You have the highest highs and yet you're facing the biggest fear of, 'How do I keep someone alive?" she said.
Barrymore also talked about getting hitched to Kopelman last June, after dating for over a year. "I really wanted a wonderful traditional home for my kid. Will comes from a strong family, he provides a strong family. It just makes me so emotional because it's like a miracle," she said.
It appears Barrymore is ready to talk about her newest addition to her family. Last week, the actress told Ellen DeGeneres about the decision to name her daughter "Olive." "I was reading a book with my husband. I was three months pregnant and they said, 'your baby is the size of an olive,' and that was it. We never looked back," she explained.
For more on Drew Barrymore and her family, click through to People.com, or pick up the new issue, out on stands Friday.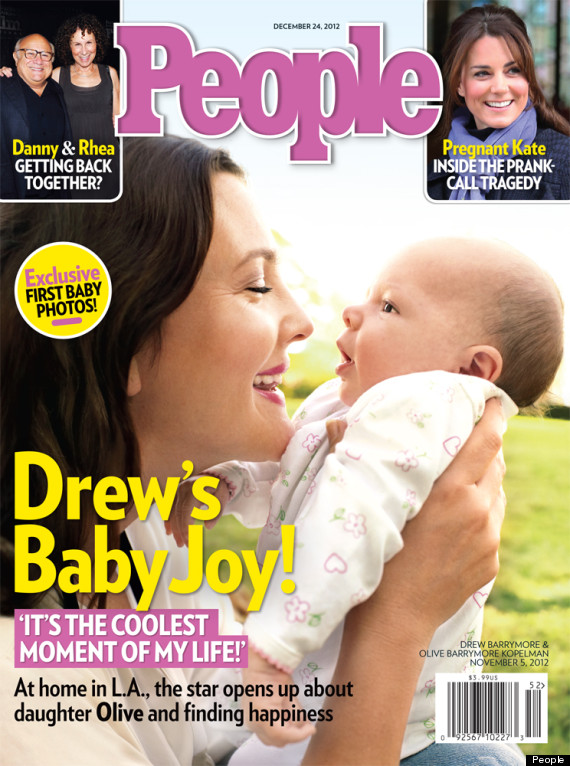 BEFORE YOU GO
PHOTO GALLERY
Celebrity Babies 2014