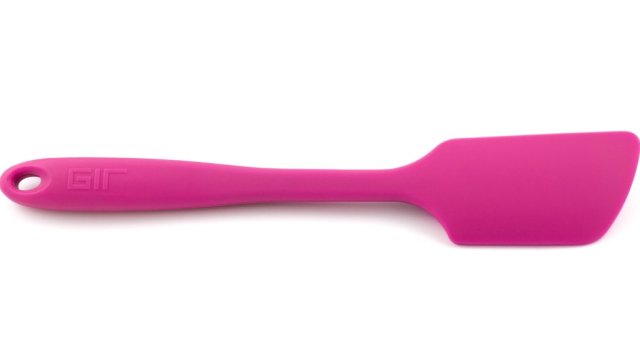 There are departments in life that just don't require innovation. We think the spoon works pretty well just how it is. We can probably leave the potholder alone at this point. We'd like to insist that we all please stop tinkering with the pizza slicer. But every once in a while, a kitchen gadget gets updated in a way we didn't even know we wanted it to be updated. That's what we found with the GIR Spatula, by Get It Right.
This successfully funded Kickstarter project involved making the spatula cleaner, leaner and more immune to the constant heat we subject ours to. After testing our very own GIR Spatula for a few weeks in our own kitchens, we're pretty pleased with the results.
We definitely tested the limits of just how long this utensil could rest on the side of a hot pan. So far, it's remained intact with no melting. We love that this spatula is made to go in the dishwasher, which saves on clean-up time. Also, the decision to keep the tip of the spatula a little more limber means nothing flies out of the bowl while you're trying to mix. Nothing will ever totally replace our trusty, old, wooden spoons. But, all in all, these are kitchen innovations we can get behind.
You can pick up your own GIR Spatula on their website for $22.50.
Want to read more from HuffPost Taste? Follow us on Twitter, Facebook, Pinterest and Tumblr.
BEFORE YOU GO
PHOTO GALLERY
Futuristic Kitchen Gadgets