Make DC Smile, a guerrilla group of goodness, has taken over the nation's capital one heartwarming gesture at a time.
Their latest project, a chalk mural that asks "What Makes You Smile?," allows residents to take a moment and remember the simpler things that make them happy.
Story continues after photo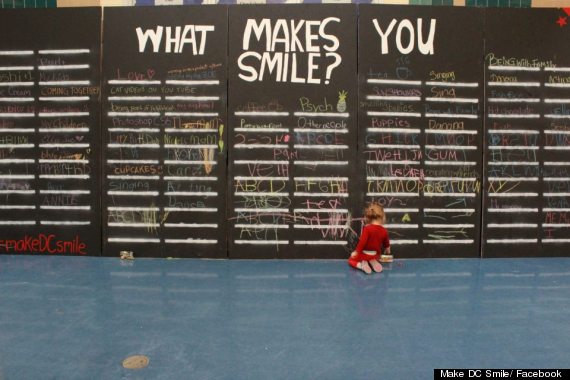 While the portable poster currently doesn't have a permanent home, it made an appearance at a Help Portrait event Saturday.
"We were working on it in front of the house when someone got out of a cab and starting asking questions. They invited us to a one day event," Massoud Adibpour, an organizer for Make DC Smile, told The Huffington Post.
During the event, adults and kids alike wrote about the things that made them smile.
Family was definitely a prominent theme -- one little girl wrote "Mom" and drew a heart next to it -- but some other sources of happiness included coffee, acting, and Internet cat videos.
"It's Christmas, and we want to remind people of the simple things and make them happy and smile not just the material things," Adibpour told HuffPost.
Story continues after photo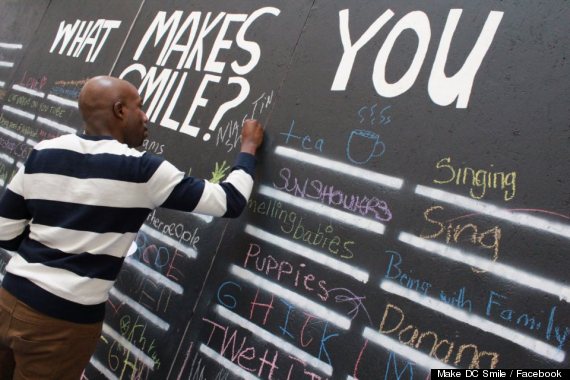 The public bucket list was partially inspired by another, smaller project by Make DC Smile: the "Take What You Need" tear-away posts.
Rather than phone numbers offered by traditional tear-away posts, Make DC Smile created a heartwarming version in which strangers took away written messages like love, hope, or strength.
The group also makes a point to post cheerful signs around DC and on the Internet.
Story continues after photo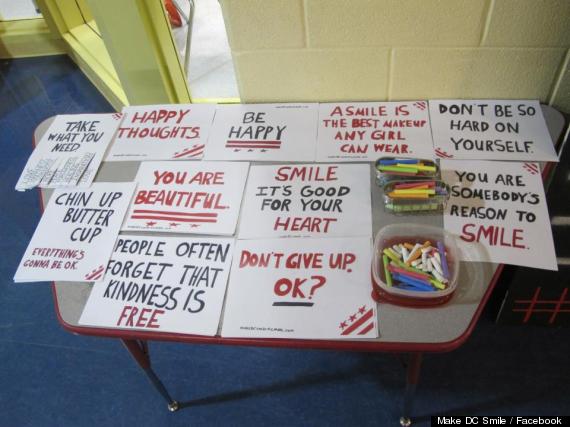 "It's something really simple. Anyone can do this, just write something nice down a a piece of paper, but the impact is so much bigger, especially when it's someone you don't know putting up the signs," Adibpour said.
Make DC Smile also holds cheerful signs for the city's Monday morning commuters.
According to Adibpour, sometimes a cheerful sign that reads, "Don't be so hard on yourself," "Honk if you love someone," or "Today is awesome" can really make a difference.
BEFORE YOU GO
PHOTO GALLERY
What Makes You Smile? Chalk Mural