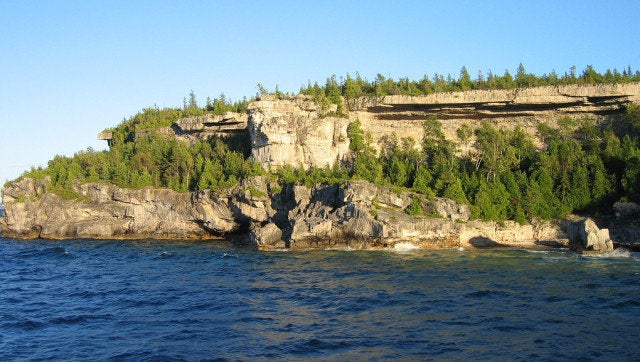 It's clear that tiny home living has become a huge trend. And with some solid commitment and research, it seems pretty feasible for anyone to do. But for Durell Ramphal, who is trying to build his own tiny home in southern Ontario, achieving his dreams is starting to seem impossible.
Ramphal would like to build a home on a flatbed trailer so that he and his family can live more simply and cut back on spending. He plans to live on a few acres where they can do some small-scale farming -- they want to raise hens and grow their own vegetables. And one of his biggest hopes for living small is to teach his daughter, now 5 months old, that the size of your home does not have to be a measure of your success. "It would be good to raise my daughter to know that you don't have to live in an excessively large space to be happy," he says. "Ideally, we want to live a more natural and healthy lifestyle and raise [her] to be cognizant of where her food comes from and how many resources she consumes in her day to day life," Ramphal adds.
So with his engineering background and interest in construction, Ramphal drafted up a few floorplans, which include everything from electrical to plumbing to insulation details.
But after reading online and contacting law enforcement members in nearby townships to learn what the bylaws are regarding trailers or homes with a small square footage, Ramphal hasn't found any that allow tiny living. "So far the results have been disheartening in that they pretty much unanimously do not want people living in any type of trailer," he says. And some of these rural neighborhoods don't even want a mobile home to be visible, he says. And the reasoning behind it seems to be based on aesthetics. "I think maybe there is a fear of people simply putting poorly kept camping trailers onto vacant lots and driving down property values," Ramphal says. So instead of being considered case-by-case, no trailer-type homes are allowed at all. But he points out that a cabin-style tiny home would actually bring more beauty to a rural neighborhood, which is why the law seems unfair.
Since he's starting to doubt that this plan could ever become a reality, he's now looking into alternative options. And he's narrowed them down to four:
Relocate to an unorganized township where there are no restrictions on trailer homes. However, Ramphal hasn't been able to find any located within a commutable distance to work.
Rent a small apartment. Although the family could live small and efficiently there, it would make their lives less outdoor-oriented and force them to abandon their dreams of hobby farming.
Ignore the laws and live in a rural, wooded area where trees could conceal the home. However, he doesn't want to risk getting in trouble with the law and threaten the family's stability while his daughter is young.
Purchase a home where a trailer can be stored in the backyard. Then, Ramphal says, he would rent out the main house while his family lived in the tiny home out back.
The last option is what Ramphal is leaning towards. He's still researching the legality of this setup, but out of all the options, this is the one that will allow them to still live in a tiny home on their own property. But there are many things he'll have to figure out, such as ensuring the home is adequate for renters and that that the property is large enough for both parties to have privacy. "It will be a few years before these plans can come to fruition, and it will obviously have to happen in stages," Ramphal says. "But I am pretty intent on seeing them through."
Have you experienced a similar problem in pursuing a tiny lifestyle? We'd love to hear your story!
And, check out one of our tiny house tours in the slideshow below.
PHOTO GALLERY
Tammy Strobel's Tiny Home
Do you have a home story idea or tip? Email us at homesubmissions@huffingtonpost.com. (PR pitches sent to this address will be ignored.)