Bode Miller might be an Olympic gold medalist Alpine skier, but he definitely needs to work on his golf swing.
While playing golf on Wednesday, Miller's tee shot hit his wife, Morgan Beck, smack in the eye, Yahoo! Sports reports. Beck, a professional volleyball player and model, took to Twitter to discuss the incident and share a photo of her gruesome injury.
SCROLL FOR PHOTO (WARNING: GRAPHIC)
I'm not feeling so hot. Line drive to the face today with a golf ball from my darling husband.I still love instagr.am/p/TKWS0bJFhX/

— Morgan Miller (@MorganEBeck) December 13, 2012
Hit wife w golfball. #worstfeelingever

— Bode Miller (@MillerBode) December 12, 2012
Luckily, Miller's 160 mph golf shot did not cause permanent damage to Beck's eye, according to Yahoo! Sports. The injury did, however, require more than 50 stitches. Miller thanked the doctors at UC San Diego Health System for their help.
On Thursday, Beck was feeling better.
Discharged and headed home. Hoping I can score a cool eye patch for Carving's race on Saturday at Hollywood Park from my check up tomorrow.

— Morgan Miller (@MorganEBeck) December 14, 2012
The volleyball stunner and her husband even took time out to thank the manufacturer of the sunglasses she was wearing, sunglasses they believe saved her eye.
Thanks @kaenon for saving my wifes eye.An amazing lense and frame to take a 160mph line drive direct hit and not shatter.#highquality

— Bode Miller (@MillerBode) December 13, 2012
Beck's sunglasses were able to sustain the 160 mph golf shot without shattering into her eye. A rep for the company was not surprised. "While accidents like this are rare, it was for this exact reason that we set out to create the SR-91 polarized lenses we did," the representative told TMZ. Adding, "Our thoughts and best wishes for a full and speedy recovery go out to Morgan and can't wait to see her blocking shots at the net again real soon."
The New Hampshire-born Miller met Beck in May and married her five months later in a private ceremony on his boat in San Diego in October, the Associated Press reported.
As for making their relationship work, Beck told the Aspen Times, "We made the pact to do everything together until we get sick of each other."
LOOK: Beck posted a photo of her injury to Instagram on Wednesday.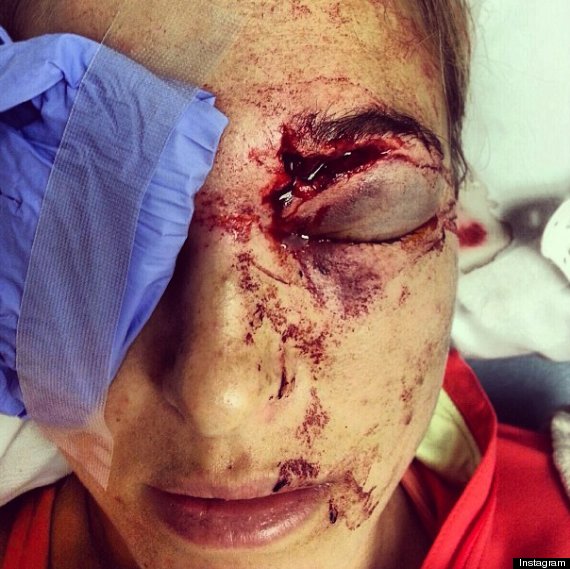 BEFORE YOU GO