Before he surrendered himself to the radiant rectangle -- the shape that would come to symbolize his best-known works -- Mark Rothko had a figurative, one might even say Surrealist, past. The Columbus Museum of Art is featuring a number of the artist's important, but lesser-known works in an exhibition this coming February entitled, "Mark Rothko: The Decisive Decade, 1940-1950."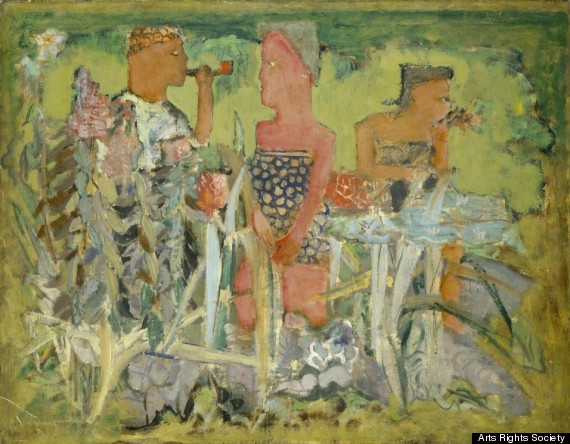 The exhibit showcases what critics have deemed the Russian-American masters's formative period: the 1940s. It carefully plots the artist's move from figures to the color-block expressions that made him famous, introducing us to Rothko's early experimentation with defined human forms and abstract landscapes.
Rizzoli recently compiled images from "The Decisive Decade" into a book by the same name which presents Rothko's method of madness, reminiscent of the processes undertaken by Renaissance masters like Titian and Giorgione. Layering glaze upon glaze, the abstract painter gradually learned how to produces four-cornered shapes of color with a luminescent quality, where rich swaths of pigment seemed to lift off the plain surface of a canvas.
The book and 37-piece exhibit shed light on an oft-overlooked period of Rothko's artistic career, so we're glad the decade is finally getting its due. Scroll through a preview of the work in the slideshow below and let us know what you think of the exhibit in the comments section.
PHOTO GALLERY
BEFORE YOU GO
Mark Rothko
PHOTO GALLERY
Mark Rothko
"Mark Rothko: The Decisive Decade, 1940-1950" was organized by the Columbia Museum of Art in South Carolina, the Arkansas Arts Center, the Columbus Museum of Art, the Denver Art Museum, and the National Gallery of Art. It will be on view at the Columbus Museum of Art from February 1st through May 26th, 2013.