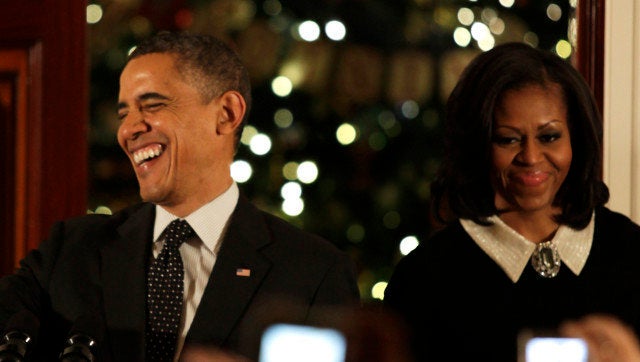 3. But because she's wearing black and white, she and POTUS sort of match. Gotta love when that happens.
4. She kind of looks like a pilgrim.
None of which are particularly bad things, but forgive us for longing for her blue Rodarte dress from last year's Hanukkah festivities. Paired with a bold, multi-strand Erickson Beamon necklace, the metallic party dress was one of Michelle's best looks of 2011. We didn't think any outfit was capable of it, but the whole thing just screamed "Hanukkah!" and made us want to eat a plate of latkes.
This black dress, on the other hand, makes us want to eat Thanksgiving dinner.
Check out Michelle celebrating the Festival of Light with the president. Are you a fan of this dress?
PHOTO GALLERY
Obamas Celebrate Hanukkah At The White House