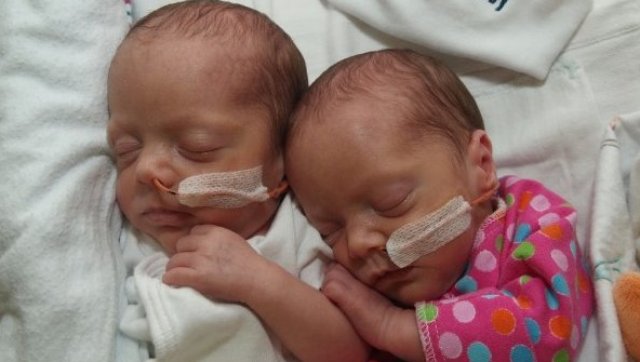 A Bay Area family got a holiday miracle last month thanks to help from Lucile Packard Children's Hospital at Stanford.
On November 7, Allison and Kevin Carlson celebrated the birth of their twin baby girls, Kate and Annie. But the girls weren't just any twins: they were monoamniotic twins, which stand a slim chance of survival, made even slimmer by a complication.
Under normal circumstances, twins share a womb but live in their own individual amniotic sacs. But in a monoamniotic pregnancy, which occurs in less than one percent of twin pregnancies in the United States, the twins share the same sac.
"Having a set of monoamniotic twins can be dangerous and unpredictable," said Susan Crowe, MD, who led the delivery team. According to Crowe, about 20 percent of these twins die from complications, namely from umbilical cord entanglement which cuts off the blood flow.
"With no membrane dividing them, the obstetrician has to balance the risk of prematurity with the risk of a cord event," explained Crowe.
And at just 30 weeks, Kate and Annie's cords became entangled. Their heart rates dropped, and Allison was rushed to the emergency room for a cesarean delivery. The girls' cords were tied in a dangerous knot.
Miraculously, with the help of Crowe and her team, the twins survived, weighing three pounds each.
Though Kate and Annie will be spending Christmas at the hospital, they are expected home before the new year.
"We're really grateful," Kevin said. "Despite the chaos surrounding our delivery and pregnancy, Packard Children's really put us at ease with their experience and expertise. It's one of the best holiday gifts a family could ever ask for."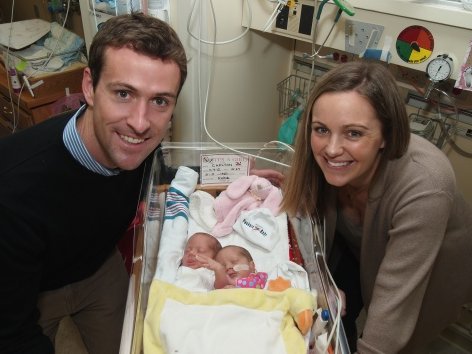 BEFORE YOU GO
PHOTO GALLERY
The Cutest Laughing Babies