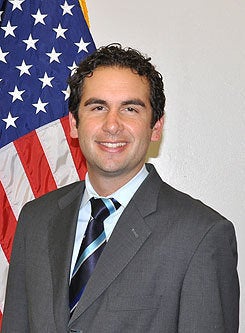 The former chairwoman of the New Jersey Democratic Party on Friday called on a Democratic candidate for mayor of the state's second-largest city to return donations from a fundraiser co-hosted by a top Republican strategist.
Assemblywoman Bonnie Watson Coleman (D-Ewing Township) issued a statement asking Jersey City mayoral candidate Steve Fulop (D) to return any "Republican money" from the Thursday fundraiser, co-hosted by Brian Nelson, a former executive director of the New Jersey Republican Party. In the statement, released by the campaign of Jersey City Mayor Jerry Healy (D), Watson Coleman questioned Fulop's Democratic ties to explain why she was involving herself in a race an hour's drive from her base in the Trenton suburbs.
"Normally, I wouldn't get involved in a race far from home, but this is a troubling and unique case," Watson Coleman said. "If a candidate to lead one of New Jersey's largest cities is willing to embrace such a notable Republican to fund his campaign, what does that say about Steve Fulop's willingness to embrace regressive right-wing policies in the community he seeks to serve?"
Nelson sent an email Dec. 5 promoting the fundraiser at a restaurant in Rumson and identifying himself as co-host. Fulop spokesman Bruno Tedeschi said at the time that Nelson was not a co-host and was attending as a "decade-old friend."
Healy has previously attacked Fulop for the fundraiser. Nelson was treasurer for state Sen. Joe Kyrillos' unsuccessful GOP campaign to unseat U.S. Sen. Bob Menendez (D) this year and has been named by Gov. Chris Christie (R) to the state Economic Development Authority. Nelson also worked for 2005 GOP gubernatorial nominee Doug Forrester.
Fulop and Healy are locked in a bitter campaign in a May nonpartisan election to lead Jersey City. Fulop, a 35-year-old councilman for the city's waterfront, has staked out a reformist position in city government and in the campaign against the two-term incumbent.
Watson Coleman said she wanted to know if Fulop's fundraiser was proof of an ideological connection.
"At the very least, it is confusing, and at worst frightening, to think of the implications this would have upon the safety, health care and education of such an important urban area of our state," Watson Coleman said. "Steve Fulop claims to be a Democrat, and if that's the case he should immediately return this money -– which clearly comes with ideological Republican strings attached."
Tedeschi declined to comment on Watson Coleman's statement. Earlier this month, when Healy asked that the fundraiser be canceled, Tedeschi told PolitickerNJ.com that Healy has himself received GOP backing and once employed a Republican as his chief of staff.
"Steven has always been a Democrat. He is happy to have bi-partisan support in a non-partisan election in a city that has all types of people," Tedeschi told PolitickerNJ.com. "This is just more hypocrisy from a candidate at the helm of a sinking ship. In 2009, Healy sent out a letter from the chairman of the Republican Party endorsing him for re-election."
BEFORE YOU GO
PHOTO GALLERY
U.S. State Capitol Buildings