Authorities discovered 16 tons of pot -- worth between $150 to $300 million -- hidden on the premises of a gardening and landscaping business in Long Beach, Calif.
Officers executing a search warrant at the Rolling Hills Nursery uncovered two large storage containers filled with bundles of marijuana Thursday afternoon. Four suspects were arrested on site.
The Los Angeles Sheriff's Department announced the find Saturday.
No one at Rollings Hills was available to comment about the discovery to The Huffington Post, but at least one customer has wryly pointed out that the pot bust seems to have highlighted a hidden item on their plant list.
"Garden plants aren't ALL they specialized in..." wrote Yelp reviewer Neil C. before re-posting the LASD's statement on the arrests.
Sixteen tons of pot, photo courtesy of the LASD.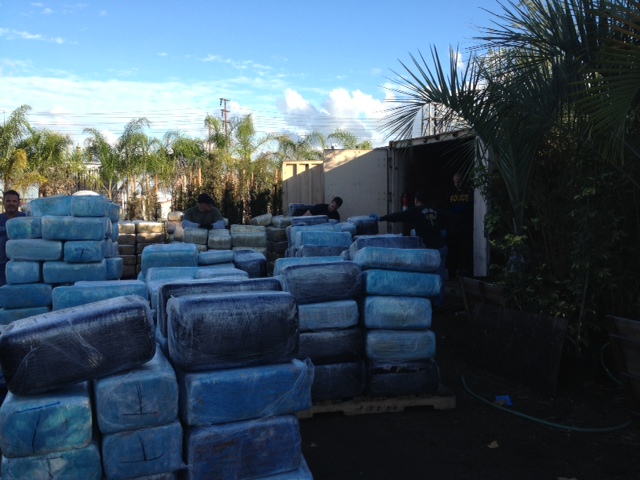 The marijuana discovery in Long Beach is just the latest in a series of high-profile busts in Southern California. A Hacienda Heights grow house with $5 million worth of marijuana plants was shut down in August. Before that, 180 bales of marijuana estimated to be worth $4.03 million were found floating off the coast of Dana Point.
The strangest marijuana discovery in the Southland was also, by far, the smallest grow. Robert Downs was arrested in July for living in a makeshift hut in the Tujunga Ponds Wildlife Sanctuary near Pasadena, Calif. Authorities discovered eight marijuana plants on the premises.
Police in the U.S. make one marijuana-related arrest every 42 seconds, according to a report from the FBI.
BEFORE YOU GO
Here are 14 reasons marijuana is good for the economy:
PHOTO GALLERY
14 Reasons Why Marijuana Is Good For The Economy