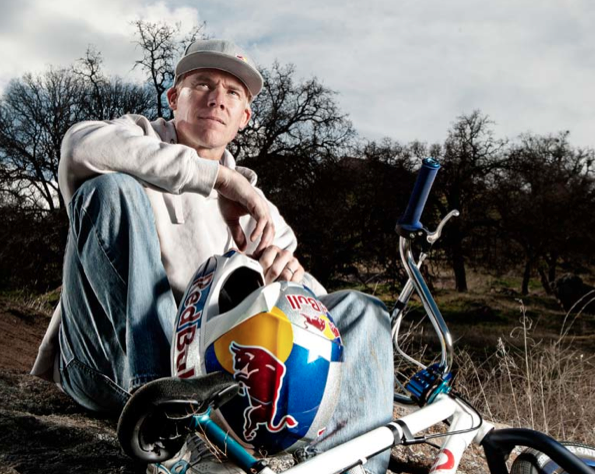 (Photo by Jen Aborn)
PRO BMX BIKER Kevin Robinson may hold a world record and have five gold medals under his belt, but he hasn't forgotten the early days of building ramps in his friend's backyards and practicing tricks on the flat of a court. The sport has defined his life for the past 31 years, and now he's taken it upon himself to ensure that the kids in his Rhode Island community also have the opportunity to stick with the sport they love.
Since 2010, Robinson, a native of East Providence, Rhode Island, has championed children's participation in sports through the K-Rob Foundation, providing financial assistance and hosting motivational events for kids in his community who want to pursue a particular sport and are unable to meet the cost of equipment and training.
"I wanted to give kids the opportunity to do things that I didn't have," says the 41-year-old Robinson. "I wanted to try to help make it a little easier for the kids in my hometown."
DO WHAT YOU LOVE
When Robinson and his friends started practicing tricks together and watching the pros in the early '80s, the sport was mostly underground. There was no set career to be had and colleges weren't doling out sports scholarships for BMX, but Robinson kept at it, frequently riding his bike 10-15 miles just to get to the nearest park.
"We'd do whatever we had to do to get to where we needed to get -- we'd pile in a car, driving two to three hours just to ride a ramp," Robinson said.
While his friends' interest in BMX fizzled out, Robinson persisted, performing at fairs around the country, and finally going pro in 1991 at age 20. But it wasn't until the inception of the first X-Games in 1995 that extreme sports took off, as did Robinson's career. He won his first two gold medals in the 2006 X Games for Big Air and Vert Best Trick.
But one of Robinson's fondest memories isn't winning gold at a competition, but the first time he caught air on a ramp, going right over the top.
"That's what riding's been about for me -- it's never been about medals or money, it's about pushing a progression of myself and pushing a progression of my sport. I don't sit around and think about what I just accomplished like 'oh this is great', I move on to the next thing pretty quickly."
And the next thing for Robinson was a community wide East Providence, where working families were hit hard by the recession.
THE K-ROB FOUNDATION
After 30 concussions, 44 orthopedic surgeries, shattering his pelvis and undergoing extensive reconstructive surgeries on his shoulder and ankle, Robinson still rides regularly and will compete in this year's X Games. But in 2010 he found another way to stay grounded in the world of BMX outside of competing, creating the K-Rob Foundation, prompted by the economic struggles of local families and children who couldn't afford to continue with a sports program.
Robinson's interest in starting his own foundation grew from the time he spent on the board at the Junior Seau Foundation, founded by Robinson's good friend Seau, the former New England Patriot's Linebacker who committed suicide earlier this year.
Families who can't afford to sign up their children for a number of sports such as football, baseball, karate or bike riding are invited to sign up for financial assistance from the foundation, and after the applications are vetted, those candidates who meet the requirements are given monetary aid.
This is especially beneficial in East Providence, where the state budget commission was forced to cut middle school sports programs to slash the deficit. But the foundation doesn't just offer financial aid -- for the past two years, Robinson has been trying to foster a sense of community involvement through events for children and their families. The largest event was the second annual Family Fun Festival last May, which was free for kids and drew in a crowd of about 6,000.
"With the foundation we'll just keep doing positive events, even if it's just for that day," says Robinson. "If we can get people smiling and treating each other kindly then you know that's all you can keep doing. "
The day begins with a bike-ride in the morning followed by live entertainment and sports demos in the afternoon. It was during the Family Fun Festival that Robinson revealed the names of the 16 children, aged 10 to 17, who were selected to spend a week at the action sports intensive Camp Woodward, divided evenly between kids interested in BMX and skateboarding. Robinson was even their cabin counselor, taking the bus over to State College, Pennsylvania and spending the week as their instructor.
THE FUTURE
The married father of three has some serious plans for his foundation and the local community, including a 35,000 square foot indoor facility for BMX and skateboards in Coventry, R.I. set to open in October of 2013. Robinson also hopes this facility will act as a community center of sorts, providing free afterschool programs for kids such as tutoring and mentoring, a "positive place for kids to go".
"My ultimate dream would be to open a huge center here in East Providence," he says, adding that he also hopes to one day open an outdoor public skate park in his hometown as well.
"If you're passionate and you're going after something because you believe in it you'll figure out a way to make it work," says Robinson.
This appears in Issue 28 of our weekly iPad magazine, Huffington, in the iTunes App store, available Friday, Dec. 21.