Dane DeHaan is reaching Hansel levels of hotness at this point. The 26-year-old Leonardo DiCaprio doppelgänger has enjoyed a breakout 2012 thanks to roles in "Chronicle," "Lawless" and the first five minutes of "Lincoln." He was also recently cast as Harry Osborn in "The Amazing Spider-Man 2," beating out high profile actors like Eddie Redmayne and Sam Claflin in the process.
DeHaan will start 2013 off right as well: He plays Lucien Carr opposite Daniel Radcliffe's Allen Ginsburg in "Kill Your Darlings," a new drama headed to the Sundance Film Festival.
The first official photo from "Kill Your Darlings" has debuted courtesy of Sundance, along with a plot summary.
While he is attending Columbia University in 1944, the young Allen Ginsberg's life is turned upside down when he sets eyes on Lucien Carr, an impossibly cool and boyishly handsome classmate. Carr opens Ginsberg up to a bohemian world and introduces him to William Burroughs and Jack Kerouac. Repelled by rules and conformity in both life and literature, the four agree to tear down tradition and make something new, ultimately formulating the tenets of and giving birth to what became the Beat movement. On the outside, looking in, is David Kammerer, a man in his thirties desperately in love with Carr. When Kammerer is found dead, and Kerouac, Burroughs, and Carr are arrested in conjunction with the murder, the nascent artists' lives change forever.

Daniel Radcliffe fearlessly takes on the role of the young Ginsberg on a journey of discovery—to find his sexuality and his voice as a writer. Cowriter/director John Krokidas takes on this less-explored early chapter of the Beats and captures the period with visual flair, kinetic energy, and imagination. Kill Your Darlings is the riveting true story of a crime, a friendship, and the nexus that spawned a cultural movement.
"Dexter" star Michael C. Hall plays Kammerer, while Ben Foster ("Contraband") is William Burroughs and Jack Huston ("Boardwalk Empire") is Jack Kerouac. In the photo below, Foster and Huston occupy, respectively, the left and right fringes of the frame.
For more on "Kill Your Darlings," head over to the Sundance website.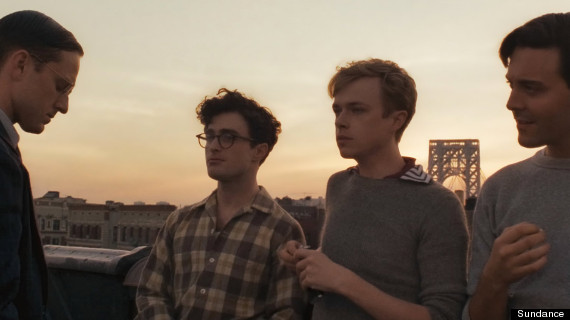 PHOTO GALLERY
Sundance 2012 Photos
BEFORE YOU GO