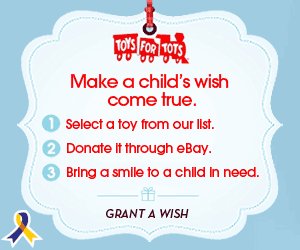 Tis the season for giving, and with that, a great deal of young girls and boys to cross off our collective shopping lists.
For every child in our lives with a wish list, however, are many more needy children who aren't guaranteed a merry Christmas, which is why eBay has teamed up with Toys for Tots to match every donation made through their "Give One" program.
There's never been a more important time to get involved and lift the spirits of a child during this holiday season. Major Bill Grein USMC (Ret), the Vice President of Marketing and Development for Toys for Tots says, "At the beginning of December toy donations to Toys for Tots were down by 1 Million versus last year."
"It's very simple — when you donate a toy to Toys for Tots, eBay will also match that toy," says Glee's Darren Criss. "So when you're donating one toy for Toys for Tots, you're essentially giving two toys, which is pretty nifty."
Purchasing a toy for a child in need has never been simpler, and to make it even more so, our editors have partnered with eBay to present our picks for can't-go-wrong gift ideas below, featuring some of the year's hottest toys showcased at NY Toy Box Experience.
View Our Slideshow of Great Gifts You Can Give With Just One Click
PHOTO GALLERY
Make A Child's Christmas With Just One Click