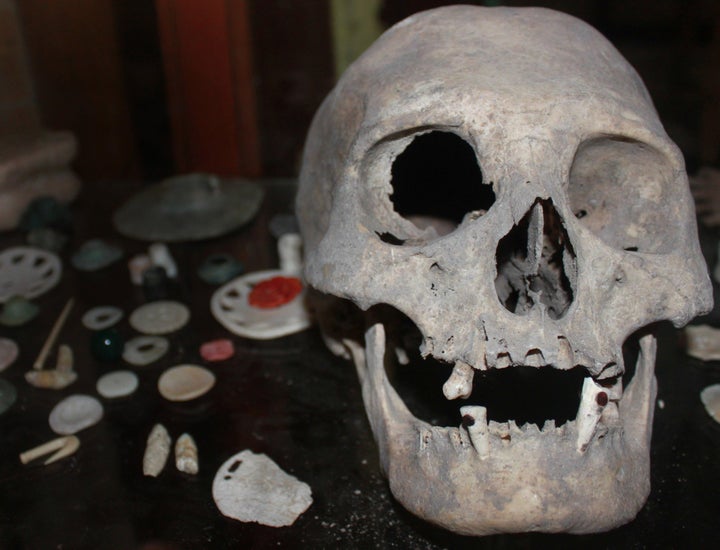 The museum began 29 years ago when Luis Colmenares, then just a boy, spotted a sliver of pottery amid the dirt as his father dug a new foundation for their home on an island in Lake Peten. The sliver turned out to be a whole cup, and an uncle at the archeological foundation in Guatemala City confirmed it to be a roughly 2,000-year-old relic of the Maya Empire. Luis and his father kept digging.
The dozens of shockingly intact objects they unearthed are now on display in what must be the most unorthodox collection of Meso-American artifacts on display anywhere in the world. Rather than selling or donating the pieces, the Colmenares built a museum on their island, dubbed "Radio Peten" by locals. Later, Luis added a regular feature to the pop sets he DJs on 88.5 FM, 1460 AM.
"We ask locals to bring the things they find in their villages here on the radio," said Colmenares.
The reaction has been fairly stunning. The Lake Peten region of Guatemala is ruin-rich, and the island of Flores, which sits a half-mile away from tiny Radio Peten, was one of the last Mayan holdouts -- Cortes saw it and, uncharacteristically, left it unsacked, which it continued to be until 1697. This is why the one-room museo is full to the brim with millennia-old pots, obsidian blades and elaborate carvings.
Displays of priceless artifacts bump up against displays of a far more personal nature. A painting of Colmenares' grandmother, who emigrated to Guatemala from southern Spain, hangs above a phonograph that still holds the 24-record set she used to learn English. A rifle hangs from outdated radio equipment. A picture of Colmenare's father, looking every inch the lothario, watches over a gap-toothed skull compressed to conform to the Mayan standard of beauty.
Luis himself conforms rather neatly to the expectations of a radio host. He is pale, doubly so by Guatemalan standards, and has thick glasses that compliment his nervous manner. His massive black Labrador mix follows him constantly, occasionally standing on its back legs to kiss its master's face. Though Colmenares is proud of his collection and quite knowledgeable, he insists that it is nothing and pleads ignorance. But he is a man with a big idea that shouldn't be as radical as it is.
"It is important to keep the Mayan culture here because they don't even teach about this in school," Colmenares says. "Maya come from towns like Quetzaltenango and they've never seen stuff like this. They're excited to touch these things. Artisans come to and look at the designs so they can create similar things to sell to the tourists."
The tourists aren't far away. Flores, which is connected to the charmless, grey streets of Santa Elena by a thin causeway, is the consummate backpacker town. The inns and hostels are painted in riotous colors and someone has wandered through the myriad bars posting a notice inviting travelers to a attend an ayahausca ceremony on December 21, the purported date of the apocalypse. "Stuck in Lodi Again" booms from tuk-tuk mounted speakers not tuned to Radio Peten and missionless Missionaries sun themselves on the lakeside boulevard.
Colmenares was hoping that the tourist boom surrounding the apocalypse would bring enough visitors to the museum that admission fees -- roughly $2.50 a pop -- would add up and his brother could open a lodge he's built behind stelae displayed on the grounds. On the day I visited, only two other foreigners had made the rather involved trip, which involves paying a boatman or renting a pirogue, as I did, and tottering nervously across the lukewarm lake.
"I want to keep these things because it is best for all this area," Colmenares said. "My family was not Maya, but now my brother is marrying a girl who is part so we will be too. Everyone here gets some eventually. It is all of our history."
He plays long notes on a tiny whistle shaped like a monkey that was carved before Christ died, then signals the end of the song with the blast of a sun-bleached conch. It is 1:45 and he has to be on the radio. He jogs toward the base of the tower that rises from the middle of the island, his dog chasing him, and puts on that Pitbull song. The door to his museum swings open and sticks that way.
PHOTO GALLERY
Guatemala's Strangest Museum