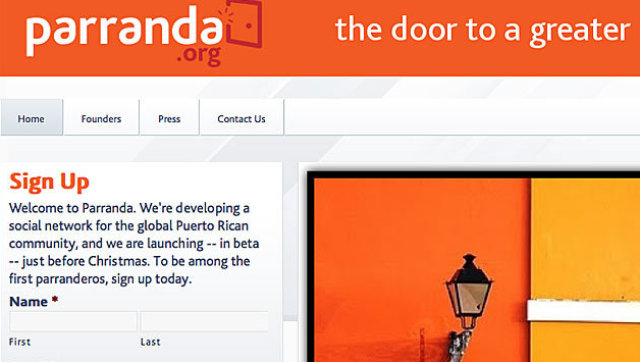 With more Puerto Ricans living in the United States today than in Puerto Rico, one group is gearing up to launch a social network that seeks to connect Puerto Ricans.
"The idea is to create a bridge between Puerto Ricans living in the U.S. and those living in Puerto Rico," Natascha Otero-Santiago, one of the founders of the social network, told VOXXI.
Parranda to pinpoint where Puerto Ricans live
Otero-Santiago said that beginning Christmas Eve, Puerto Ricans will have access to the beta version of an online network dubbed Parranda, named after a popular Puerto Rican Christmas tradition. The network will begin with a mapping project that will pinpoint where Puerto Ricans live across the U.S.
According to the Pew Hispanic Center, there were about 4.7 million Puerto Ricans living in the U.S. in 2010. A large portion of them resided in Northeastern states and in Florida. There was also a significant number of Puerto Ricans in states like Illinois, Ohio, North Carolina, Texas, California, Virginia, Maryland and Georgia.
"When we say 'boricua hasta en la luna' we mean we have Puerto Ricans everywhere," Otero-Santiago told VOXXI.
She added that in the future, Parranda will also include a broad range of projects that will "serve the economic, civic and cultural development" of Puerto Rico and its people living on the island and across the U.S.
For those who want to move out of Puerto Rico, the network will also provide tools to make it easier for them to transition into the U.S. And for those living in the U.S., it will provide ways in which they can help their compatriots back home.
'The time is right' for the launch of Parranda
The group launching Parranda includes 18 Puerto Rican entrepreneurs, scientists and business leaders. They contend that now is the best time to launch the social network considering a series of recent events that they say demonstrate "the need, desire, and utility for a Puerto Rican diaspora network."
Among the reasons they list includes the growing number of highly-trained professionals who are leaving Puerto Rico to come to the U.S., which they say has created "a brain drain" on the Puerto Rican economy. The political power Puerto Ricans demonstrated in this year's elections—especially in states like Florida and New York—also influenced their decision to launch the network.
They added that current events in Puerto Rico were influential as well. Such events include Puerto Ricans voting in November against the island's current political status and in favor of statehood, which would make Puerto Rico the 51st state of the United States. Also influential was the recent increase in the violent crime rate in Puerto Rico.
"The time is right for the launch of a platform like Parranda, which aims to bring Puerto Ricans together for a number of projects designed for large-scale social impact," stated Giovanni Rodriguez, co-founder of Parranda. He is also the CEO of SocialxDesign, a strategic consulting firm with offices in Silicon Valley and Washington, D.C.
Parranda named after Puerto Rican Christmas tradition
The Parranda network was named after the Puerto Rican Christmas tradition of having people go knocking door-to-door throughout their neighborhoods and gathering people to join them in knocking on more doors.
"We see it as the perfect metaphor for what we are trying to do—knocking on the virtual doors of all Puerto Ricans, and asking them to join us," stated Marcos Polanco, another founder of Parranda. "Plus, the Parranda concept is joyous. Yes, it will help us tackle some of our toughest challenges. But the act of coming together in itself will be part of the appeal."
Parranda will be launched Christmas Eve but people can already sign up for early registration by visiting Parranda.org. They can also pledge online to support Parranda individually or as a sponsor.
Originally published by Voxxi as Parranda: A social Network Dedicated To The Puerto Rican Diaspora

BEFORE YOU GO
PHOTO GALLERY
5 Reasons Why Puerto Rico Probably Won't Become The 51st State