We all know Ellen DeGeneres likes to try and get her male guests to show off their shirtless physiques, but Bradley Cooper was adamant about not removing his shirt during his last stint on her show.
And now we know why.
During his Dec. 18 appearance on "The Ellen DeGeneres Show," Cooper, 37, revealed the "disgusting" reason he won't take off his top -- he has not two, not three, not four ... but FIVE nipples.
"You asked me before, but I didn't want to reveal too much," Cooper told DeGeneres of why he didn't go shirtless on his last appearance. "I'll show you why."
The "Silver Linings Playbook" star unbuttons his shirt and confesses, "I have a third nipple -- is that not weird? It's disgusting."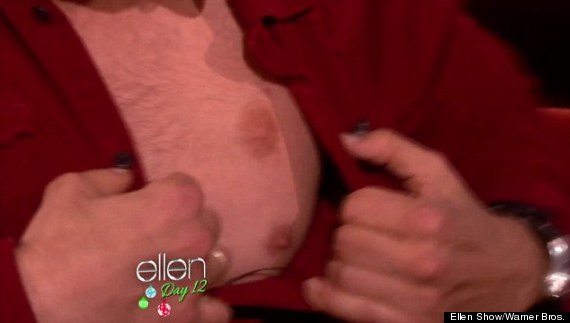 But that's not all.
'I have a fourth. It's so sick," the actor said, showing off his forearm nipple before rolling up his pants and explaining, "And I have a fifth on my leg."
So, do you have a feeling this is all very suspicious? Well, that's because it is.
It was later revealed that Cooper's nipple saga was one big joke. (I know, we're disappointed too). DeGeneres was just trying to use up time before her 12 Days of Christmas gift giveaways.
BEFORE YOU GO
PHOTO GALLERY
Celebrity News & Photos