That's right: an entire cookbook with recipes that models actually eat, submitted by the models themselves.
The brains (and very pretty face, we might add) behind the operation is Cesar Casier, a 24-year-old male model from Belgium. You might have seen his face in the Armani Exchange ads plastered across New York City this fall or the runways of Dior and Missoni, but his real passion is food: the model maintains an adorably peppy blog called The Cesar Salad where he writes about himself (in the third person) and chronicles recipes and dishes he's eaten across the world.
Lately the blog entries revolve around Model Kitchen, Casier's cookbook-by-models project. In October 2012 he told Style.com, "I have this great passion for food and for fashion. I left home for modeling and I didn't want to go to all these fast-food restaurants, so I started to learn to cook... So, I decided to make a cookbook about what models eat."
Casier only started cooking up the idea this past April, but by October the book was already finished. On October 22, the model blogged, "I really worked hard on it... I selected all the recipes, got in contact with the models, did the food styling myself. My friend, Maᅢᆱl, and I even cooked the food on the shoot ourselves." Model Kitchen went on sale in Belgium in November, with Casier doing book signings and TV appearances.
Now all he needs is a gorgeous food blog to go with it. Perhaps he can call on fellow models Chrissy Teigen and Robyn Lawley to help?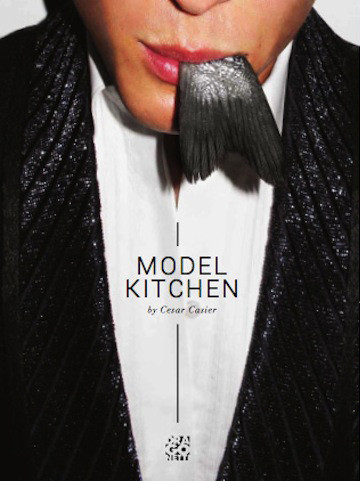 Models DO eat! The proof:
PHOTO GALLERY
Models And Food