The Hollywood Reporter's annual "Rule Breakers" issue is dedicated to stars who played by their own rules, and succeeded. And who better to cover the glossy's second edition than this year's Comeback Queen, Oprah Winfrey?
Dressed in a red figure-flattering dress, the media mogul breams a bright smile that can definitely be contributed to the turnaround of her once fledgeling TV network, OWN.
"I'm not doing the hula yet …but compared to a year ago, it feels like a sigh of relief," Oprah told THR.
Oprah took a risk walking away from her long-running eponymous show that crowned her the Queen of All Media in 2011. But despite OWN's initial low ratings and lackluster programming, Oprah has been able to bounce back doing what she does best: interviewing the world's biggest stars. Things started looking up for the 58-year-old after she launched the highly successful "Oprah's Next Chapter," which produced hard-hitting one-on-ones with Rihanna, Usher and the first interview with Whitney Houston's family following the icon's untimely death.
"Part of my own expectation was, 'You've had 25 years of success; people will leverage that,'" Oprah explained to THR. "But we didn't account for people not having the channel, and not knowing how to find it, and the cable audience being different from broadcast."
Well, it looks like she's got the hang of things. And although Oprah is no longer the richest black woman in the world, don't count her out. The mogul is still worth approximately $2.7 billion, plus OWN recently inked a multi-year deal with Tyler Perry to create several promising sitcoms. We smell some hits!
Here's a look at Oprah's THR "Rule Breakers" cover and check out the star's amazing style evolution in the slideshow below.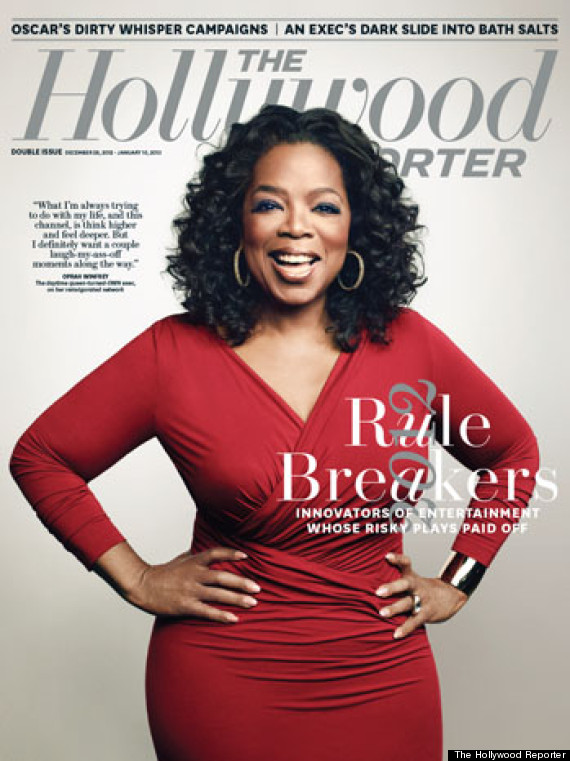 BEFORE YOU GO
PHOTO GALLERY
Oprah Winfrey's Style Evolution