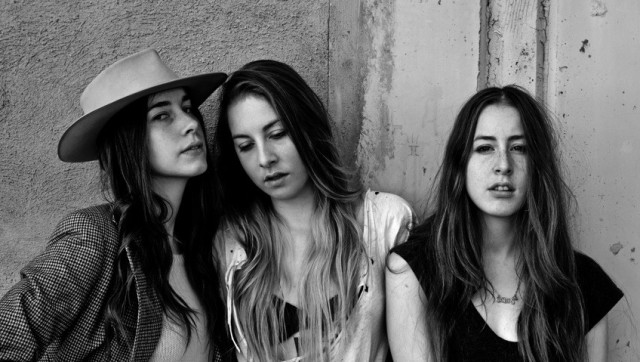 My LA is a series of Q&A profiles with our favorite Angelenos. To see others, be sure to check out My LA.
"HAIM" is the name of a band that everyone will soon be talking about - but it's also the last name of the three sisters who make up the boho-hipster-rocker combo that was recently hand-picked by Mumford & Sons to tour with them.
Their sound is a sexy mashup of Stevie Nicks, The xx, Florence + The Machine and many, many rockers who have come before them. The band played a sold out show Wednesday night at LA's famous Troubadour and it was their first time headlining that stage. Dressed each in boots but flaunting their separate styles, the uber-enviable sisters have one thing in common: long, flowing, siren-like hair.
Este, Danielle and Alana Haim grew up in the Valley and started playing music with their parents in the family's cover band, Rockenhaim. After playing an electrifying set at the Troubadour Wednesday night, the sisters brought their parents out onto stage for a final rocked-out version of "Mustang Sally." Whatever it is that music producers look for ... they got it.
They have only five songs out now but they are working on releasing their debut full-length album in the first part of 2013. HuffPost LA spoke to the trio about the perks of being valley girls, the best advice ever and the time they tried to break into James Murphy's house. Mark our words, these girls are on the rise.
Read the Q&A and watch videos in the slideshow below [all photos courtesy of HAIM].
PHOTO GALLERY
Sister Act: HAIM