Abstract art often seems like one of those terms that happily appeared one day in the vocabulary of art historians only to be applied, retrospectively at times, to a number of radical and disparate artists. Seen in paintings and sculpture, as well as poetry and dance, the visual experience of abstraction is often difficult to define and even more difficult to pin down.
"Inventing Abstraction," a new exhibit at the Museum of Modern Art, seeks to explore the fluid beginnings of abstract art, focusing on the years between 1910 and 1925, when artists, musicians, choreographers and filmmakers appeared to invent the concept of abstraction almost simultaneously across several European cities. Revisiting the paintings of Vasily Kandinksy, the musical work of Arnold Schoenberg, and the poetic stylings of Frank O'Hara, the giant exhibition, traces the specific moments in Western history when artists turned their backs on creative norms and dove into the explosive movement of abstract art.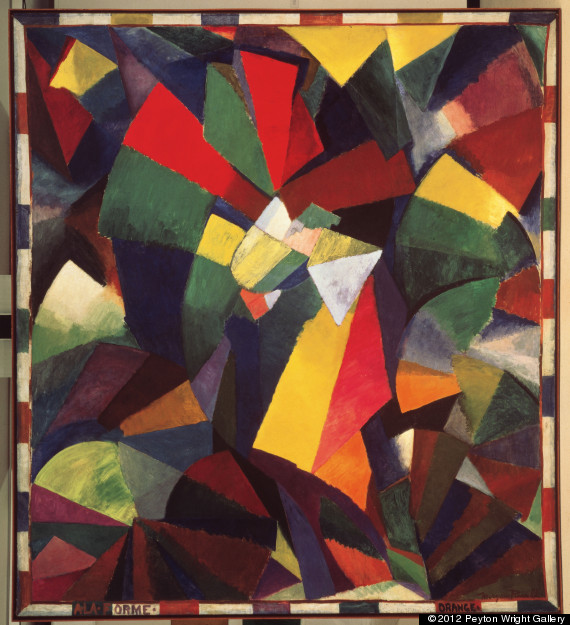 Morgan Russell. Synchromy in Orange: To Form. 1913-1914. Oil on canvas, 11'3″ x 10'1½" (342.9 x 308.6 cm). Collection Albright-Knox Art Gallery Buffalo, New York. Gift of Seymour H. Knox, Jr. © 2012 Peyton Wright Gallery. Photo courtesy of Albright-Knox Art Gallery / Art Resource, NY.
Nonfigurative, nonobjective, or nonrepresentational, the works of this 15-year period introduced a departure from realistic depictions of art and a turn to alternative understandings of imagery and sound. The exhibit includes over 350 works in an impressive array of media ranging from sculpture and works on paper to photographs, recordings, dance pieces and film. Shown together, the group of rarely seen, multi-disciplinary pieces reveal how artistic relationships -- between visual artists, composers and writers of the time -- amounted to the creation of the wholly new artistic language known as abstraction. Though strict definitions remain elusive, the collection provides a striking portrait of the movement as it began.
Scroll through the slideshow below for a peek at MoMA's upcoming exhibit, "Inventing Abstraction," which opens to the public on December 23rd, 2012. Let us know which abstract work of art is your favorite in the comments section.
PHOTO GALLERY
Inventing Abstraction
BEFORE YOU GO