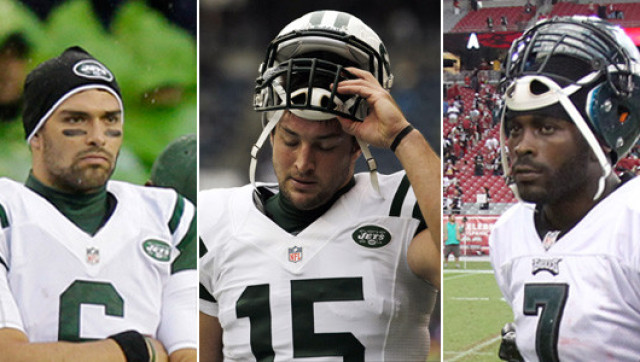 Despite all the attention paid to his arrival (and subsequent inaction) in New York, Tim Tebow may never pilot the Jets' offense. According to various reports, the 25-year-old quarterback may not even be back in green next season.
On Tuesday, head coach Rex Ryan announced that he had bypassed Tebow and named Greg McElroy as the replacement for the inept Mark Sanchez. Shortly after that passing of the clipboard was revealed, the Daily News reported that Tebow would request a trade or his outright release following the season if McElroy started in Week 16 versus the San Diego Chargers as well as Week 17 against the Buffalo Bills.
"Obviously, I'm a little disappointed," Tebow told reporters on Wednesday, via The Associated Press, regarding Ryan's decision to go with McElroy. "You try to handle it the best you can."
Asked if he would be back in 2013, Tebow was non-committal.
"I'll just wait until the end of the season," he said, "and look at everything then."
Tebow may not have to push too hard if he wants out, according to the New York Post. A source told the Post that the Jets will explore trading or cutting Tebow after the season.
"Rex [Ryan] and Tony [Sparano] had no idea how to use him," the source told the Post.
Further complicating the Jets' quarterback mess are reports that Mark Sanchez could also be traded after the season. The Daily News also learned that Michael Vick "would be amenable to coming to the Jets if Sanchez is out of the equation."
At the very least, McElroy is feeling terrific.
"This is a once-in-a-lifetime opportunity," McElory said Wednesday, via NFL.com. "This is a great moment and a great milestone in my career. Obviously this is something I've looked forward to and I've dreamed about my entire life. I'm thrilled to have this opportunity."
BEFORE YOU GO
PHOTO GALLERY
2012 NFL Season Highlights