French police arrested two men who had gas masks and machetes in their car as they approached a mountain rumoured to be one of the few places where people will survive when the world supposedly ends on Friday.
Officials said they believed they were trying to test the security cordon thrown around the village and nearby mountain of Bugarach, where dozens of police were deployed to head off a potential influx of New Age fanatics and sightseers.
On Thursday police also arrested one man with a Taser electric shock device and another with a baseball bat near the village of 200 people, where journalists from across the world have congregated.
Police had wrongly anticipated a mass influx of visitors and blocked access to the village and the Pic de Bugarach, the mountain which some say will open on the last day and aliens will emerge with spaceships to save nearby humans.
Believers say the world will end on December 21, 2012, the end date of the ancient Mayan calendar, and they see Bugarach as one of a few sacred mountains sheltered from the cataclysm.
BEFORE YOU GO
PHOTO GALLERY
End Of The World 2012
12/21/2012 6:57 PM EST
That's All Folks!
Since the world hasn't ended, we're going to conclude the live blog at this time. Thank you all for reading!
12/21/2012 6:35 PM EST
We Survived
@ jonesry28 :

Well... We survived the "misinterpretation of the Mayan calendar." Congratulations to all of you.
12/21/2012 5:50 PM EST
Half-Price Calendars
@ KeithCowing :

I guess mayan calendars will be half price at bookstores starting tomorrow
12/21/2012 5:42 PM EST
CARTOON: Mayan Calendar Doomsday Vision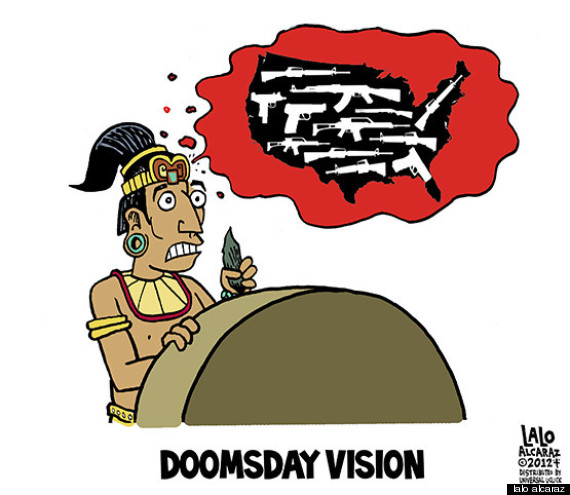 For his latest cartoon, Chicano artist Lalo Alcaraz depicted what the Maya's real doomsday vision might have been.
Read more about Alcaraz on HuffPost Latino Voices.
12/21/2012 5:32 PM EST
Standing Guard At Chichen Itza: Mexico's Boy Scouts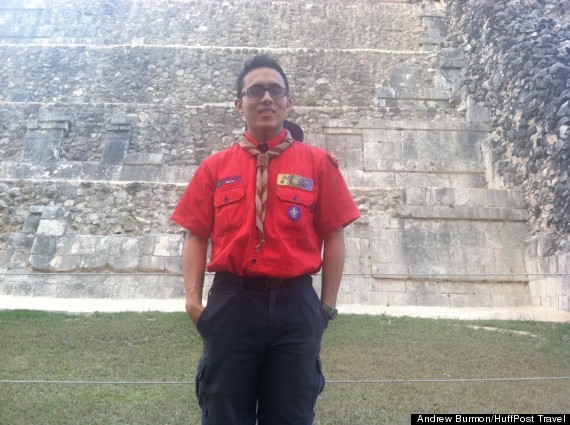 The temptation to ignore the signs, jump the ropes and climb the pyramid dominating the main plaza here gets the better of some visitors. That's why the archeological park has called in Yucatan's scouts, who stand at something approaching attention around the major ruins.
"We do this for special events," explains Gabriel Ancona, an 18-year old Rover Scout -- Mexico's equivalent to an Eagle Scout -- from nearby Merida. "I enjoy serving and, even though I'm not Maya, this is part of my culture because I grew up here."
Ancona says several of his friends had to help stop a crowd of 80 spiritualists, mostly American, who tried to climb El Castillo this morning.
"The scouts were definitely helpful with that," says Ancona, who is amused but unfazed by visitors' fervor.
He admits he finds some of the dancing funny but is complacent about the whole thing.
"They can believe whatever they want," he says. "They just have to stay off the ruins."
-- Andrew Burmon, HuffPost Travel
12/21/2012 5:23 PM EST
End Of The World Movies Worth Seeing
From zombies to a viral pandemic, Hollywood has imagined countless ways the world could end. While some plots are more far-fetched than others, most apocalyptic films have one thing in common: that glimmer of hope that the world won't end after all.
Overlooking blockbuster disaster films like "The Day After Tomorrow," CNN Entertainment compiled a list of the end of the world movies you should actually watch.
12/21/2012 5:01 PM EST
End Of The World Conspiracy Theory?
12/21/2012 4:44 PM EST
Ceremonies Mark A New Era
At dawn, crowds gathered at Tikal - one of the largest pre-Columbian Maya sites in Central America - for rituals sending out the old - and bringing in the new. Reuters reports.
12/21/2012 4:26 PM EST
In Mexico, What One Local Thinks Of The 'Apocalypse'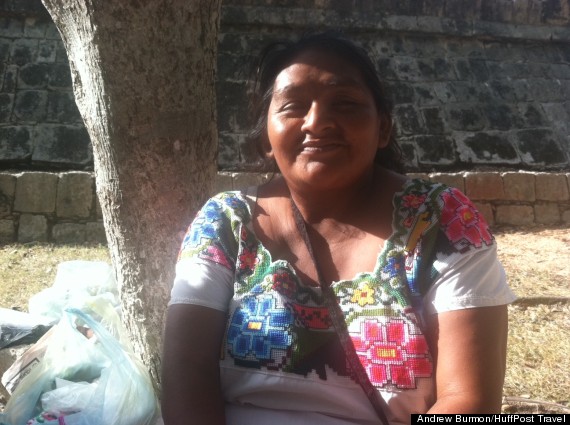 Silvia Guadalupe commutes every day from the Maya town of Xcalacop to the temple complex of Chichen Itza, where she sells handkerchiefs embroidered with bright flowers. Today, as the world fails to end, she is hoping to make enough sales to buy new clothing for her children.
"Only once we make enough money will we go home and celebrate," she says. "We are poor so we have to be here today."
She's not ashamed of her poverty and actually laughs about it. Hers is hardly a unique position within the Maya community. Still, it is a unique day.
"I think things may be a little better for the next few years," Guadalupe says, smiling at a customer who examines her goods and walks away. "It is nice that people care about our calendar, which is like a religion to many people here."
She expects to head home late tonight.
-- Andrew Burmon, HuffPost Travel
12/21/2012 4:12 PM EST
10 Epic Artworks For The End Of Days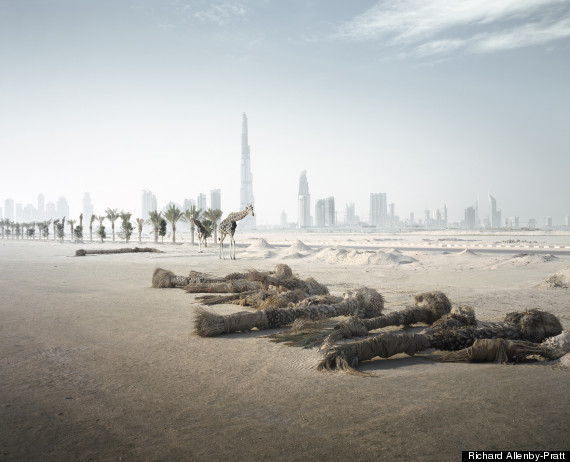 In honor of the anti-climactic affair, HuffPost Arts compiled their 10 favorite artworks that just scream "the world is ending!"
See the rest of the apocalyptic artwork on HuffPost Arts.