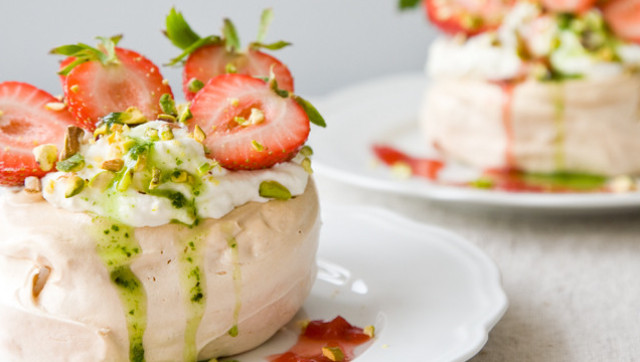 Contrary to popular opinion, meringue recipes are always simple to follow. It's true that you have to whip egg whites, and none of us really like to do that, but with a little hand holding from French Chef Jaque Pepin, you'll soon realize that meringue recipes are as easy as one, two, three -- and they look impressive too.
The most important part is setting yourself up correctly to whip the egg whites. Be sure to use a perfectly clean, stainless steel or copper bowl. The rest is the fun part. With just a little sugar and a few egg whites, you can make decadent layered cakes -- also known as pavlovas -- airy cookies, and even little mushrooms for cake decorating. You can make fluffy cakes, frosting and those lovely little cookies that everyone loves but too many people mispronounce. (It's mah-kah-ROHN for the record.)
Light and airy, meringues are perfect for summer. So give them a shot. Once you see how approachable they are, you'll never look back. Here are 31 recipes to get you started:
PHOTO GALLERY
BEFORE YOU GO
31 Meringue Recipes
PHOTO GALLERY
31 Meringue Recipes
Want to read more from HuffPost Taste? Follow us on Twitter, Facebook, Pinterest and Tumblr.
ALSO ON HUFFPOST:
PHOTO GALLERY
BEFORE YOU GO
Macaron Recipes
PHOTO GALLERY
Macaron Recipes