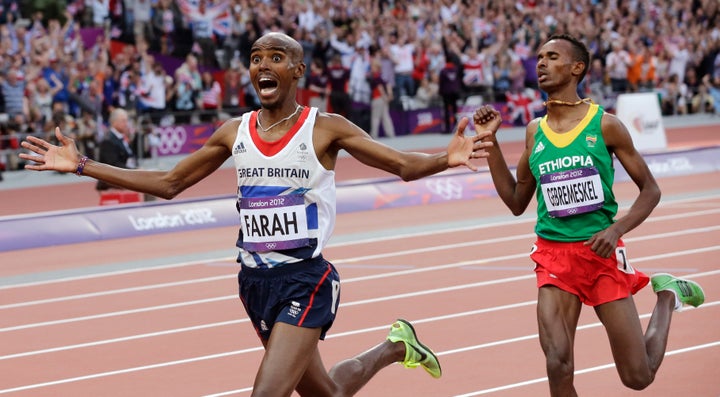 With his arms spread wide and his smile nearly as expansive, Mo Farah was the first man across the finish line in the men's 5,000-meter final at the London Olympics. The British middle distance runner may not have taken home as many medals as Michael Phelps or dominated quite like Usain Bolt but his euphoric medal run(s) provided one of the most indelible memories from the London Games as well as one of the signature sports moments of 2012.
According to The Associated Press, the Penn State scandal, Lance Armstrong's cycling ban, NFL bounties, football concussions, replacement NFL officials and Pat Summitt's retirement were among the Top 10 sports stories of 2012. While each of those stories undoubtedly held our attention during the past year, the emotions they elicted were hardly positive. Granted, the replacement refs did give us a few laughs. But don't let the weight of these events and incidents totally obscure the inspirational and joyful moments from 2012. If you're feeling a bit down then take a moment to look at the face of Farah (or go look at this Tumblr of him running away from things) to remind you about why we became fans and competitors in the first place.
Not every sports story that lifts the hearts of fans is as euphoric as Farah's double triumph in London. Sometimes, inspiration and defiance are the qualities that draw us toward teams, players and even coaches. In 2012, the way that the upstart Indianapolis Colts rallied behind head coach Chuck Pagano, who was diagnosed with leukemia in September, has been one of the most compelling storylines in the NFL season. Many Colts players, and even some cheerleaders, shaved their heads to show support for their coach as he underwent treatment. Now that he's in remission following three rounds of chemotherapy, Pagano might even return to the sideline for the season finale.
In the underdog category, the Oakland Athletics and Baltimore Orioles delivered in 2012, embarking on exhilirating runs into the MLB postseason. The A's somehow managed to rally in the final month to win the AL West, even though the Los Angeles Angels and Texas Rangers were heavily favored. Thanks to having a negative run-differential for most of the season, few took the O's seriously until late September as they went on to clinch their first playoff birth since 1997.
Without further ado, here are these and more of the most irrepressible, feel good sports stories of 2012. If we're missing anything that lifted your spirits this year then let us know and we'll add it to the list.
BEFORE YOU GO
PHOTO GALLERY
Feel Good Stories Of 2012