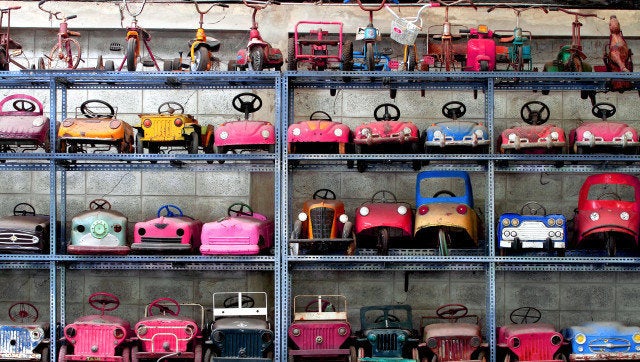 This holiday season, Market Warriors antiques pro (and mom of four kids under 10!) Benedicta "Bene" Raia weighs in on buying vintage gifts for her children, the contemporary toys that they collect, and what she wishes that she had held onto from her own childhood.
Raia's favorite collectibles, and area of expertise, include antique dolls and toys. According to Raia, "Anything that relates to how children lived and played 100 years ago is very interesting for me. I tend to compare those children with mine and I find the similarities amusing and the differences thought-provoking." Raia adds, "It's fun for me to see that my kids want to do what mommy does. I love that they are thinking like true collectors."
We interviewed Raia to learn more:
The Huffington Post: If you were buying your kids only vintage gifts what would you purchase?
Bene Raia: I would buy the girls Renwal dollhouse furniture. It's vintage and made of hard plastic. It can be played with and still retain its value. The scale is just right for some of the small scale "play" dolls that are available now, such as Polly Pockets.
For the boys, I would buy mechanical tin toy robots and cars. I would focus on the Japanese made ones that are meant to be played with. The wind-up toys are also colorful and can be easily displayed.
HP: What are some things that parents are buying today that you could see becoming the collectible of tomorrow?
BR: Toys made today are very durable and mass-produced words, words which you might think would negatively impact their collectability, but that is not the case. Some contemporary toys are very collectible. I think that toys based on popular television shows and movies will be collectible in the future. I remember when Star Wars came out. We loved the series and now Star Wars toys are very collectible. I see the Harry Potter series going in the same direction. My son is just finishing the books and we just watched the movies. I can see him collecting toys based on the characters and holding onto them in the years to come.
HP: Knowing that parents are balancing sentimentality with overcrowded playrooms, what would you advise parents to hold on to and what would you encourage them to give away?
BR: My advice is to let the children lead the way. I watch my kids play and if they love a certain doll or toy, we focus on those items for their collection. The girls are now into American Girl dolls. The dolls are big (18") and they take up a lot of room. To keep things fair, each girl can have dolls that fill a certain area (in our house it's the top of each girl's dresser). If the area is filled then there's no more room for a big doll but there's room for the doll's purse or pet etc.
HP: What are some of the things that your kids collect?
BR: My girls collect dolls – American Girl dolls, Polly pockets, Barbie and stuffed dogs. My boys collect toy cars, Thomas trains and baseball cards.
HP: What do you wish you had held on to from your own childhood?
BR: I have held on to my favorite teddy bear but I wish I had my doll. She was a black 36" Patti Playpal type doll. In addition to the sentimental attachment, if I were to buy this same doll today she would retail for close to $300.
HP: What have been some of your favorite Market Warriors finds that fit into this category?
BR: My favorite flea market find would have to be the dollhouse that came with rooms of furniture that I purchased in for our first auction with eBay (airing on PBS, Monday, February 25th at 9pm). The dollhouse was Marx and the plastic furniture was Renwal. I've bought and sold similar dollhouses and each time I'm amazed at the quality and detail depicted in each room. I've also purchased miniature furniture (small scale chest of drawers) and again the workmanship is evident. I really like that a lot of thought went into how children would play and interact with these toys.
You can get to know Bene on Monday, January 7th at 9pm/8C on PBS when she has her Market Warriors debut. For a sneak preview of what she will be bringing to Market Warriors and her thoughts on being a working mom, watch the video below and see more of what kids have collected over the years on the Market Warriors Pinterest gallery.
BEFORE YOU GO