This is the point in time when you have one week to seamlessly transform your festive holiday decor into a chic and stylish setting for a New Year's Eve party. Sounds stressful right? But after speaking with Betsy Burnham, lead designer from Los Angeles-based firm Burnham Design, we've got some really great ideas to easily throw together a bash our friends won't forget.
In our interview with Burnham, who is known for creating sophisticated interiors by layering lots of color, patterns and texture as well as over-accessorizing, she explains that there are easy ways to bring a very unique touch to this holiday that will help you bring in the new year right.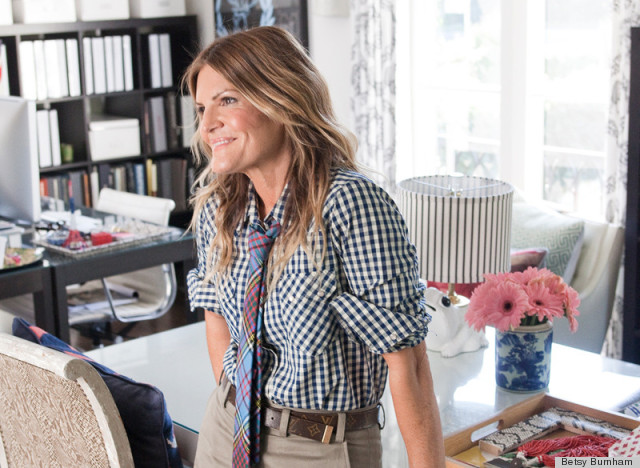 Huffington Post: We're tired of silver, gold and glitter for NYE. What are cool color palettes for a fab party?
Betsy Burnham: You can go classic and mix tartan plaids (red, green, navy, black & white) with faux fur, or try something earthy and tribal, with brown, purple, persimmon and mustard.
HP: Do you have any ideas for repurposing your holiday decor for New Year's Eve?
Betsy Burnham: It seems obvious but I love Christmas lights. I wrap them on handrails, indoor and outdoor trees and across my mantel.
HP: Any other ideas for DIY decor?
Betsy Burnham: Buy different height glass floral containers (I get them wholesale in downtown L.A.), group them on tabletops and/or in the middle of your dining table and drop a tea light into the bottom of each one. When lit, they truly sparkle and look like a million bucks.
HP: What's a great (but not too pricey) party favor idea?
Betsy Burnham: Take some time on a weekend and make your own holiday CD. There are some rarely heard and really good holiday songs out there, and guests love a playlist curated by their host.
HP: How awful is it to use paper goods instead of the real stuff for a cocktail party?
Betsy Burnham: Of course, I'm first and foremost in favor of the real stuff. That said, I'm OK with paper napkins in great patterns, and I'll do heavyweight clear plastic plates (please, no paper and no colored plastic!) and these great reusable plastic glasses... but I draw the line at plastic silverware. It's so awful to eat from! Rent (or collect) some place settings of vintage hotel silver. Your guests won't even notice their plates are plastic.
HP: Do you have any fun party game ideas?
Betsy Burnham: Everybody loves a good game of "celebrity." We've spent many late nights in our living room (and elsewhere) having a ball with it.
HP: What's on your New Year's Eve playlist?
Betsy Burnham: A little Bill Withers, some Rolling Stones, and the Charlie Haden Quartet.
HP: How do you recommend configuring your furniture for the best party flow?
Betsy Burnham: Find extra seating in other rooms in your house -- an ottoman, a couple of dining chairs, even an outdoor garden stool -- and bring them into the room where you'll be entertaining. It'll look collected and funky when people arrive, and serve you very well when the crowd takes over.
HP: How do you make party clean-up a snap?
Betsy Burnham: Get your friends into the kitchen for extra champagne and sweets -- then everyone will help with the clean up. Or just hire a great caterer!
Are you inspired? Click through our slideshow of New Year's Eve crafts for more great ideas.
PHOTO GALLERY
New Year's Eve Crafts
Have something to say? Check out HuffPost Home on Twitter, Facebook, Pinterest, Tumblr and Instagram.
**
Do you have a home story idea or tip? Email us at homesubmissions@huffingtonpost.com. (PR pitches sent to this address will be ignored.)