Today in "absurd products arbitrarily marketed to women," we bring you ... the ladies-only electronic cigarette. For those of you who have been puffing away on e-cigs (battery-operated devices that vaporize a tobacco-flavored mixture to simulate smoking) designed for macho manly men, your smoking-like habit has finally been delivered from testosterone h*ll by Vaping Vamps. (We know that these electronic cigarettes are for ladies because of the purple designs adorning them.)
According to the company's website, entrepreneur Maria Verven founded Vaping Vamps after she quit drinking in 2011 and was helping her daughter quit smoking. The e-cigarettes are supposedly "designed specifically to help women quit smoking." And if the product's mission statement is to be believed, the e-cigarettes are targeted toward a very specific type of woman:
A Vaping Vamp is a mature, confident woman. She's vital. Vibrant. Vivacious. Full of vim and vigor.

Whether out on the town at restaurants, theatres and events, working out at the local gym, cheering on her kids in sports or staying in to quilt, read or craft, a Vaping Vamp enjoys life.

A Vaping Vamp revels in her femininity. She's not afraid to be who she is. She loves expressing herself in her clothing, hair and make-up
.
LOOK: Vaping Vamps E-Cigarette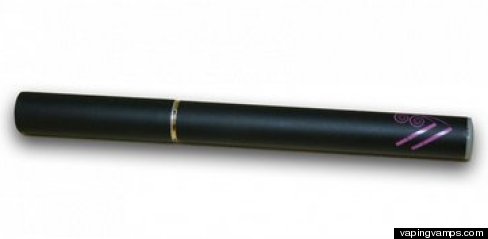 Jezebel's Anna Breslaw argues that the Vaping Vamps are problematic -- not because they're targeted to women, but because they don't offer anything new to consumers besides a "girly" package. She writes:
... aside from the packaging, it doesn't look like the actual e-cigarette is tailored to suit the specific needs of women at all, who have a different quit process than men do and could undoubtedly benefit from a little innovation to make the device suit their needs specifically, rather than just include a number of "kissable" fruit flavors to vape with and such.
E-cigarettes are just the latest in a long line of products targeted to women, usually via pink or purple trim rather than features designed to fill any specifically female need. In the last five months alone, Fujitsu unveiled its "Floral Kiss" computer, Bic for Her pens caused a stir on Amazon and Honda announced its (bubblegum-colored) lady car, called "She's."
At the end of the day, did anyone really need a more "feminine" version of any of these products? We think not.
[H/T Jezebel]
BEFORE YOU GO
PHOTO GALLERY
Stupidest Products For Women