Got a success story of your own? Send it to us at success.stories@huffingtonpost.com and you could be featured on the site!
Name: Janaye Murphy
Age: 27
Height: 5'4"
Before Weight: 288 pounds
How I Gained It: In high school I started to gain weight. I was about 185 to 190 pounds, but I wasn't really worried about losing weight. After high school, I would tell myself I was going to lose weight, I would even get a gym membership and make a plan to eat less -- but I never went to the gym more than once and my eating habits stayed the same. A little after my 21st birthday, my mom had a stroke and I moved back home to help my dad take care of her. Most of the day I sat around the house with my mom; she had a hard time walking and didn't get out much. I ate whatever I wanted, not worrying about what I was doing to myself. It was a really hard time in my life, and I comforted myself with food. In April 2009, we took my mom on a trip to Hawaii. I didn't recognize myself in the photos. I got on a scale -- I was 288 pounds
Breaking Point: A few months after we got back from Hawaii, my mom's health got worse: heart problems, renal failure, diabetes, stroke and early Alzheimer's. I just kept thinking she wouldn't want me to end up like her and about how much I was putting myself at risk by being so overweight. At the beginning of August 2010, my mom passed away at 47. That was all the motivation I would ever need.
How I Lost It: I started working out six days a week with walking, yoga, cycling, weights and step aerobics. At first, I could only work out for 15 to 20 minutes at a time, because I would be out of breath. Sometimes I would have to stop for a few minutes and take a small break before returning to the workout, but every week I would add time and push myself to go further.
I stopped eating fast food, most processed foods and soda. Now, I try to eat all natural foods. I'm more aware of what I'm putting into my body. I like to follow the 80-20 rule: 80 percent of the time I eat right, and the other 20 percent I let myself indulge. It works well for me; if I limit myself too much, I'm likely to fall back into my old habits. I've even helped my dad lose 100 pounds.
People alway ask me how I did it. There was no pill, surgery or diet -- it was a life change that requires a lot of motivation. I eat healthy and work out to live longer. There are days when I don't feel like working out, or I'm thinking about eating more than I should, but then I think about my mom and I know she would want me to live a long and healthy life. We fail to realize sometimes that we only get this one body, and we are only cheating ourself by not taking care of it.
Current Weight: 166 pounds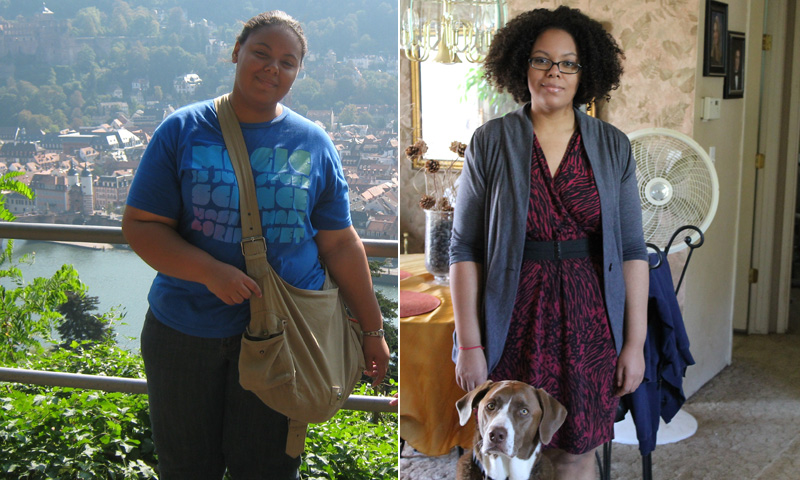 The Huffington Post publishes photographs as they are submitted to us by our readers.
Check out more of our inspiring weight loss stories below:
PHOTO GALLERY
Weight Loss Success Stories
For more on weight loss, click here.