Calling all collectors, connoisseurs, patrons, economists, starving artists, tastemakers and enraged bystanders. The New York Times wants you to engage in a conversation about the art market. In a recent letter to the editor entitled "Invitation to a Dialogue: An Art Market Bubble?" William Cole writes rather dramatically about what most of us already know: the art market is not fair. He writes:
"Financiers know the value of hype. They understand that if artworks sell at exorbitant prices, those works — and the artists who created them — become newsworthy, regardless of whether they're actually any good. And the media play right along..."
The thought-provoking piece finishes with gusto: "Have the masters of the universe created the unpoppable bubble? Or will the child's voice somehow manage to rise above the buzz and proclaim that the emperor is, as many have suspected all along, buck naked?" Even though we agree with this sentiment, we hope we never see the current art emperor Damien Hirst viewed in the buff. This undated photo provided by Christie's shows Jean-Michel Basquiat's "Untitled 1981". Christie's auction house says the colorful acrylic and oilstick canvas could set a new record for the graffiti artist when it's offered in the fall. The current record is $20.1 million. "Untitled 1981" is an important early work by the artist, who died at age 27. It goes on sale Nov. 14. (AP Photo/Christie's)
A recent count by ArtLyst placed international art sales at a whopping $64 billion in 2012, with analysts predicting this figure will only get larger over time. Cult figures like Jean-Michel Basquiat, Andy Warhol and Jeff Koons reigned supreme at 2012 auctions, earning from $25 million to $43 million for a single work. These obscene prices continue to fly high amid a national recession.
And yet, while dead white guys and the fetishized few rake in unbelievable sums, bohemian meccas like Bushwick and Bed Stuy are often cited as the sites of budding geniuses. Whether Jerry Saltz waxes poetic on late nights filled with sex, drugs and art or the New York Times is discovering the "scrappy" Bushwick galleries a couple years late, starving artists remain the heroes of art's future. They just don't get paid.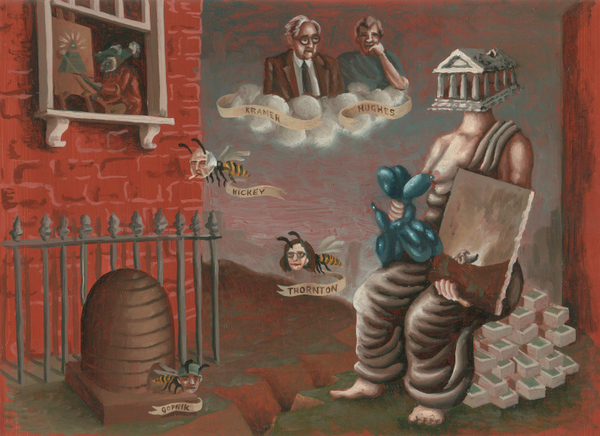 "The Divorce of the Art Market and Art Criticism," Ex-Voto Painting by Matthew Couper

Somewhere between art criticism and the art market is the art media, who Cole accuses of "play[ing] right along." Last month, HuffPost blogger John Seed predicted the art market and art criticism's amicable divorce in 2013 through a humorous allegorical account of a passionate relationship perhaps doomed from the start. But while most media outlets report on jaw-dropping prices from the bubble's reigning oligarchy, it is often, if not usually, with a critical eye. Let the record show this statement holds especially true for Mr. Moneybags, Damien Hirst. Take a look at these outraged letters in response to his latest "Verity" statue for evidence of The People vs. The Artist.
Yet as Will Brand wrote this past September in L Magazine, a negative review has relatively little sway in determining whether an artist is successful, since these can easily be downplayed by dealers. Brand writes that "negative reviews are encouraged to die quietly." At its most powerful, a cutting review becomes a form of entertainment which can drive art world figures to even more stratospheric heights. Edvard Munch's 'The Scream' is seen as it is hung for display at Sotheby's Auction Rooms in London, Thursday, April 12, 2012. The picture made with pastels is one of four versions of the composition, and dates from 1895, it will be auctioned in the Impressionist and Modern Art Sale in New York on May 2, with an estimated price of 80 million dollars. (AP Photo/Kirsty Wigglesworth)
To find out more about the vagaries of the market, we called young collector Raj Parmar. The 29-year-old, who owns works by Rashid Johnson, Tom Sachs and David Shrigley among others, told the Huffington Post via telephone that he didn't take art criticism or news into account when considering a purchase. "No, not at all generally," he said. "I think I've surrounded myself with some good people. To be honest, some relatively important people." He continued, "People with the inside scoop who have more pull and I am more likely to respect their opinion than the opinion available to the masses."
In the heat of Art Basel Miami Beach last month, The Guardian's Jonathan Jones almost lauded the lack of talent in contemporary art, writing that "the very invisibility of traditional talent in the art world adds to its mystique." He continues, "There is something charismatic about such a vast and wealthy system of art, artists, galleries and collectors resting on such slender foundations of actual achievement of any kind." The almost arbitrary association of value, fed by insecurity, pretension and desire as much as actual talent, is what makes the art world such a fascinating circus.
In "Art & Money," the critic Robert Hughes describes the museum as the cathedral of our time -- the centerpiece of the American city. "It has become, a low-rating mass medium in its own right. In doing so it has adopted, partly by osmosis and partly by design, the strategies of other mass media: emphasis on spectacle, cult of celebrity, the whole masterpiece-and-treasure syndrome," he writes. The museum and the art within it is both a site of reverence and a site of celebrity-driven drivel, where eternal relics are juxtaposed with the next hot young blue chip artist. With a system so topsy-turvy at its core, it's no surprise the convoluted market may actually thrive off inequality. Miami Heat Managing General Partner Micky Arison, artist Domingo Zapata, artist Damien Hirst and Miami Heat President Pat Riley attend the Haute Living Hublot And Ferrari Honor Domingo Zapata For Art Basel 2012 on December 7, 2012 in Miami, United States.
Part circus, part cathedral, the art market juggles the extreme highs and lows of the economic market while taking up little space in between. We like Jerry Saltz's advice, for starters. The New York magazine critic suggests we ask ourselves: "Are we sometimes liking things because we know the market likes them or are we really liking them?" This may be great advice for admiring art, and maybe not such great advice for buying it.
What are your thoughts on the art market and art criticism, dear readers? Join the conversation, whether by writing to Mr. Cole or leaving a comment below. In the meantime, enjoy these mind-blowing auction sales to get your engines firing.
PHOTO GALLERY
The Biggest Art Auction Sales of 2012
Correction: In an earlier version of this article, we listed the ArtLyst figure as $64 million, not billion. We regret the error.
BEFORE YOU GO