Daniel Day-Lewis wasn't fooling around when he decided to play Abraham Lincoln in Steven Spielberg's "Lincoln," going so far as to send text messages to co-star Sally Field as the 16th president. "I'd hear that twinkle-twinkle on my phone, and he would have sent me some ridiculous limerick," Field told TIME magazine last year. "He'd sign it, 'Yours, A.'"
That kind of dedication makes you wonder: What kind of text did Day-Lewis, a favorite to win his third Best Actor trophy at the Academy Awards in February for his performance, send to Field after seeing the Gettysburg Address at the White House? (One thought: "Four Score and OMG! Yours, A.")
After a special screening of "Lincoln" for President Barack Obama and White House staffers, Day-Lewis trekked up to the Lincoln bedroom where he came face-to-parchment with the Gettysburg Address. From the official White House Flickr feed:
"We had just watched the movie 'Lincoln' in the White House theatre with the director, screenwriter and many of the actors attending. Later, the President invited Daniel Day-Lewis upstairs to see the Lincoln Bedroom in the private residence. Here is Day-Lewis, who had just come to life as Abraham Lincoln, viewing the Gettysburg Address."
The photo, by Pete Souza, can be seen below. (Click for larger.)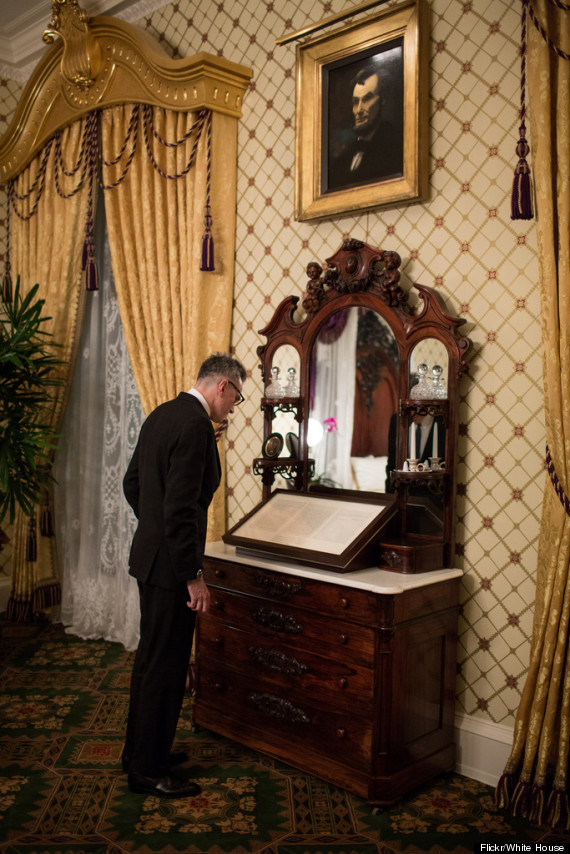 PHOTO GALLERY
Who's Who In The Cast Of 'Lincoln'
BEFORE YOU GO