New York City Mayor Michael Bloomberg met with former Arizona Congresswoman Gabrielle Giffords Wednesday. The meeting, not on Bloomberg's public schedule, was held at City Hall. It was the first time the two had met in person.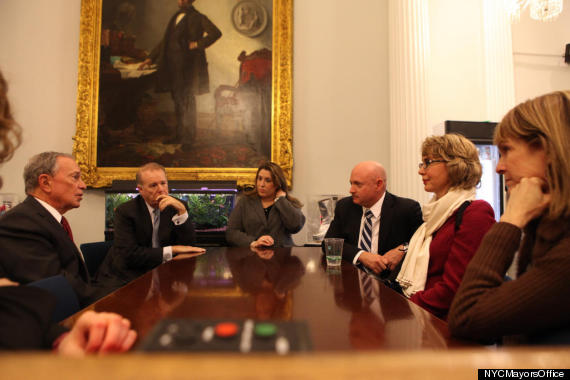 Giffords and Bloomberg talked about the mayor's push for increased gun control, The New York Post reports, after last month's deadly shooting at Sandy Hook Elementary School in Newtown, Connecticut.
"With all the carnage from gun violence in our country, it's still almost impossible to believe that a mass shooting in a kindergarten class could happen," Bloomberg wrote at the time. "It has come to that. Not even kindergarteners learning their A,B,Cs are safe."
Giffords and Bloomberg were joined by Giffords' husband, Mark Kelly. Both Giffords and Kelly are advocates for stricter gun laws.
Bloomberg spokesman Marc LaVorgna said the meeting lasted "nearly an hour," but declined to elaborate on what specifically was discussed.
Giffords famously survived being shot in the head at point blank range by Jared Loughner in 2011 at an event outside an Arizona supermarket. 18 people were shot that day, and six were killed.
BEFORE YOU GO
PHOTO GALLERY
Victims Of The Newtown School Shooting