Thirty two years after a tapestry possibly worth $1.3 million was stolen from Spain, the "Virgin and Saint Vincent" is believed to have been found in Houston, Texas.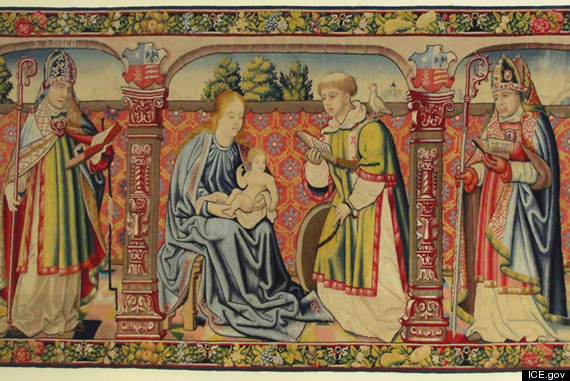 The coveted decor is currently being investigated by U.S. customs special agents, who told My San Antonio news that he was "pretty much convinced" of the work's validity from the day he saw the work in person.
The 16th century work, which depicts the Virgin Mary along with a number of Catholic saints, has been missing since it was stolen from Spain's Roda de Isábena cathedral in 1979. Notorious bandit René Alphonse Van Den Berghe, who often goes by the praiseworthy moniker "Erik the Belgian," claimed responsibility for the grand caper.
The long-lost work came back into the spotlight when a museum employee living in Spain saw a listing for what appeared to be the tapestry in a Brussels art antique catalog. Spain teamed up with authorities from Brussels and the US to track the piece all the way to Houston, where it had been purchased by nonprofit Music Doing Good Inc. in 2010. The buyer seemed unaware of the work's potential stolen past and cooperated with the authorities.
Although the Spanish Cathedral hoped to have its beloved tapestry returned it time for Christmas, it will take months for the tapestry to be conclusively identified as the stolen "Virgin and Saint Vincent." Stay tuned for updates regarding this mysterious cloth canvas.
In the meantime check out some other unexpected art finds that inspire us to keep our eyes peeled at all times.
PHOTO GALLERY
The Most Dramatic Art Finds Of 2012
BEFORE YOU GO