The discovery of more than 40 grams of meth -- including a bag stuffed in a one-year-old's shoe -- led to the New Year's Eve arrest of three people in Port Charlotte, Fl., according to the Charlotte County Sheriff's Office.
The bust began with a routine traffic stop at 9:26 p.m., Monday, when a deputy pulled over a silver Mercedes SUV for erratic driving. A background check of the driver, 41-year-old Manuel Angel Rolon, showed that his license was suspended three times. Deputies also found that the car's tags were registered to a white Chevrolet.
"As Rolon exited the SUV deputies discovered a clear plastic baggy with white powder and $790 in his shorts pocket," the sheriff's office said in a statement. "The powder tested positive for methamphetamine."
Scroll down for the photo.
Rolon's passengers -- Dodie Allyson Albritton, 20 and Bret Alexander Rule, 29 -- emerged from the car to reveal an even larger stash.
According to police:
When Albritton stepped out of the SUV deputies observed a plastic baggy sticking out of the top of her bra. There were two smaller baggies inside the baggy that contained powdered meth. Rule was in the back seat and deputies observed him moving around and hiding a plastic baggy under his right thigh next to the child in a baby seat.
Authorities also found 1.7 grams of crystal methamphetamine inside an infant's shoe. The shoe was concealed inside Albriton's purse, police said. In total, the group possessed 42.3 grams of the meth.
Rolon, Albritton and Rule were escorted to the Charlotte County Jail. Each faces multiple drug-related charges surrounding the incident.
Authorities released the child to her father, WPTV reports.
LOOK: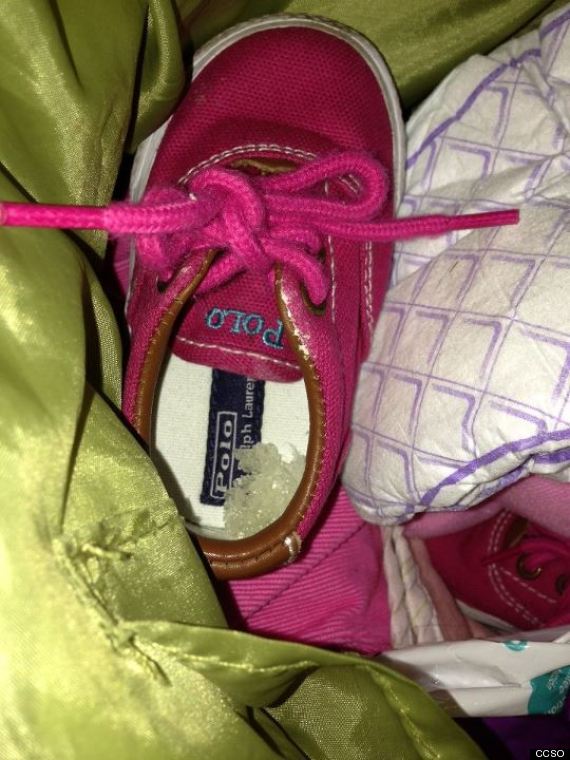 BEFORE YOU GO
PHOTO GALLERY
Horror Secrets Revealed