Last summer, the artist formerly known as Snoop Dogg announced that he was "born again" during a trip to Jamaica, planned to release a reggae album called "Reincarnated" and hoped to create music that "kids and grandparents can listen to." And he was marking this transformation with a name change, from"Dogg" to "Lion."
In the January issue of GQ, Snoop Dogg Lion further opens up about his spiritual rebirth.
"As you become a man, you start having kids and living," he says. "You put the guns away, and your music becomes 'Hey, I'm with my kid and I'm living now' … as opposed to 'Fuck that—I'll shoot you on sight.' … If I focus on death, it's going to come closer than what it's supposed to be. You'll become it. I'll say it to my friends: Write songs about being shot at and then the shit happens. And I don't want to dwell on it long, but I wrote a song called 'Murder Was the Case,' and I never had a murder case in my life. But when that song came out, I had a real murder case."
And speaking of his three children, Cori, Cordell and Corde, all between the ages of 12 and 18, Snoop says that he's not looking to force his proclivity for pot on his offspring. But if they were interested, he'd be happy to teach them how to smoke.
"It's not that I would ever push weed on our kids," he says. "But if they wanted to, I would love to show them how, the right way, so that way they won't get nothing put in their shit or overdose or trying some shit that ain't clean."
Rapper and soon-to-be dad Wiz Khalifa recently expressed a similar sentiment, telling E! News that he has no plans to quit smoking weed when his son is born.
"Of course, I'm not going to be smoking right there over the baby, because smoke in general and being high is not good for a kid. None of that," Khalifa said. "But definitely he's going to know what it is—and he'll know the difference between being a child and not being able to use it and being an adult and knowing how to use it."
For more on Snoop Lion, visit GQ.com.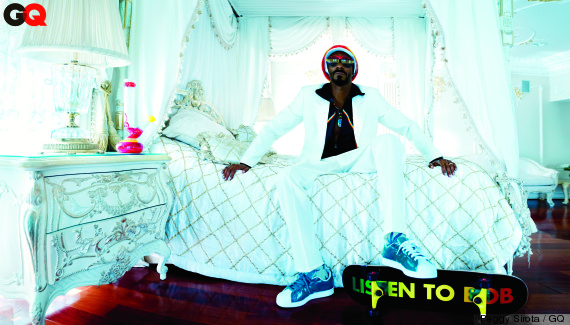 BEFORE YOU GO
PHOTO GALLERY
Celebrity News & Photos