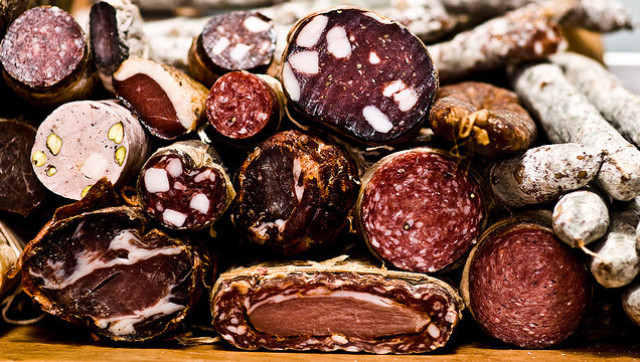 There is a scientific process behind charcuterie, the method of curing and preserving meat -- but we pretty much just think of it as magic. It can take years to perfect techniques in the making of salami, prosciutto and other cured meats, and those who do are frequently revered as masters of their craft. We're going to start today with the easiest part of charcuterie: eating it.
When that charcuterie plate arrives to your table, or is slid in front of you by an enthusiastic host, it can be a bit overwhelming if you're not sure of the difference between prosciutto and speck, or have no idea what makes pate different from rillettes. We are card-carrying members of the charcuterie fan club, and we got this way by doing one simple thing over and over again: eating it. See a pattern, here?
There are about as many kinds of charcuterie as there are flowers on earth (even meatless charcuterie!), so we've selected a few of the items you're most likely to encounter on your plate, to help you get your feet under you. Let's eat some meats!
Want to read more from HuffPost Taste? Follow us on Twitter, Facebook, Pinterest and Tumblr.
PHOTO GALLERY
Decoding Your Charcuterie Plate
BEFORE YOU GO