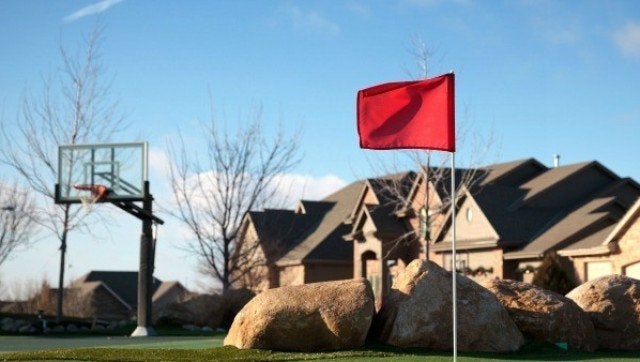 Nothing can come between a man and his land...except maybe some angry neighbors.
An Omaha father has built a truly remarkable "backyard wonderland" for his three daughters and now is fighting to protect the oasis from his neighborhood's homeowners association.
In 2008 Eric Marsh built a miniature golf course, playground and infinity pool in his backyard after purchasing a lot adjacent to his home. But HOA board members are now trying to force him to remove his handiwork because they claim Marsh built structures that were not addressed in his original plans approved in 2006. They also say the installments are out of character for the Fire Ridge community and pose a safety hazard to neighbors.
According the World Herald, things turned nasty fast when March filed a restraining order again board member Julia Tartaglia after she allegedly wrote an email to other members saying "I say we go... hit (golf) balls all at once into his pool for no less than the time it takes to have 100 go in and clog the filter system that I am sure cost more than most vehicles."
Though Tartaglia said it was a joke, no one's laughing.
Marsh is going to Douglas County District Court this month to fight the HOA's request that he fence his entire lot and remove tee boxes, AstroTurf, landscaping and the basket ball court. Marsh also wants an order stating that Targalia and the other board members can't come within 200 yards of his property.
How this will end up, no one knows. But according to KTPM, Marsh isn't giving in anytime soon and is out to prove that the board is wrong. "As a board you don't have the right to tell me what I can and can't put in my yard. This is just them trying to make it look like I have all these exceptions when I don't," he told the station.
Do you have a home story idea or tip? Email us at homesubmissions@huffingtonpost.com. (PR pitches sent to this address will be ignored.)